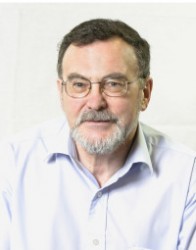 Philip Olleson
Philip Olleson, professor emeritus at the University of Nottingham and current president of the United Kingdom's Royal Musical Association, will give a free, public lecture at Drake University on Thursday, July 29.
The lecture, titled "The London Concert Scene, 1813-1816," will start at 7 p.m. in Sheslow Auditorium in Old Main, 2507 University Ave.
The presentation, which is sponsored by the Drake University Center for the Humanities, will be the keynote address at the fourth biennial conference of the North American British Music Studies Association.
Approximately 60 members from across the United States, Canada and the United Kingdom are expected to attend the association's meeting from July 29 – Aug. 1 on the Drake campus.
"Professor Olleson is one of the world's leading experts on British
musical life in the early 19th century," said Eric Saylor, Drake
associate professor of music history and local arrangements chair for
the conference. "We are extremely fortunate to have such an esteemed
scholar delivering our keynote speech, and are very pleased to be able
to make it accessible to the public."
Olleson's presentation will cover a period of intense rivalry that
arose among concert organizers in London with the formation of the
Philharmonic Society and the establishment of a new series of oratorio
concerts at the Drury Lane Theatre in 1813.
"The history of music is as much about economic and social issues
as it is about composers and concert repertory," Saylor noted. "These
sorts of cut-throat business conflicts had powerful repercussions on
what music would be performed, by whom and under what circumstances."
The conference also will feature scholars presenting papers on a
variety of topics in the broader arena of British music, ranging from
the operas of Benjamin Britten to 18th century mad songs to Scottish
folk traditions. The conference dinner will be held at Salisbury House,
a little piece of England in Des Moines.
For more information about the keynote lecture, contact Drake's Music Department at 515-271-3975.