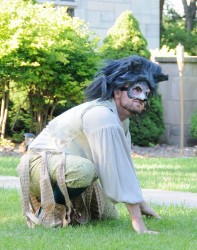 Daniel Haymes portrays one of Shakespeare's characters in "The Merry Wives of Windsor."
Several Drake University students will take the stage at the Salisbury House in Des Moines at its Shakespeare on the Lawn event this weekend.
The final performances of the show — "The Merry Wives of Windsor" — will start at 2 p.m. and 7:30 p.m. on Sunday, July 18.
Senior Cayla Marie Wolpers and recent graduate Daniel Haymes will perform in the production. Josie Poppen, theatre costume designer and instructor, designed the costumes along with junior Katharine Engelen and senior Kelsey Hirth assisting with construction.
This is Poppen's second summer designing costumes for the Repertory Theatre of Iowa's Shakespeare production. She has been in her position with Drake for the past 22 years, designing more than 50 productions at the University.
"Shakespeare's magic is that his stories are basically about people and relationships," Poppen said. "My fun as a designer is to help the audience understand a bit more about who these people are, and how they feel about each other."
Admission is $20 for adults, $5 for students with an ID. Tickets can be reserved in advance by calling 515-274-1777. The lawn at the Salisbury House, located at 4025 Tonawanda Drive, will open at 6:30 p.m. and no reserved seating is available. Guests are asked to provide their own lawn chairs and blankets.
For more information, visit salisburyhouse.org.