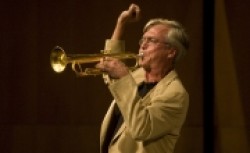 Andy Classen will direct the quintet shortly after returning from a European tour with Drake Jazz Ensemble One.
The Drake Faculty Jazz Quintet will perform a free, public concert on Wednesday, July 28, as part of the Metro Arts Jazz in July series.
The outdoor event, which includes visual artists, food and wine vendors and arts and crafts activities, will begin at 6 p.m. in the courtyard on the east side of Drake's Harmon Fine Arts Center, 25th Street and Carpenter Avenue. In case of rain, the event will be held in the center's Performing Arts Hall.
The quintet consists of:

Dave Altemeier

, teaching artist of jazz bass
Andy Classen, the Fred and Patty Turner professor of jazz studies and professor of trumpet

John Kizilarmut

, teaching artist of jazz drums

Nick Leo

, teaching artist of jazz piano
James Romain, associate professor of saxophone and assistant director of jazz studies
In addition, Gateway Dance Theatre will perform a colorful and exuberant folk dance from Northern India and an African-inspired dance to contemporary jazz music accompanied with live percussion.
Three visual artists will display their work:

Jennifer Lawler, metalsmith and owner of JL Designs, who creates contemporary, handmade jewelry from silver and gold metals with natural gemstones
Britney Short of b*designed, who specializes in fun and fabulous clothing, accessories, art and found objects mixed with art and witty design
Brooke Sutphin of b.shannon design, who creates custom, wearable works of art with precious and semi-precious materials
There will be a variety of vendors as well:

Food — Woody's Smoke Shack, Chocolaterie Stam, Sodexo
Wine Tasting — Rosey Acres Winery, Jasper Winery, Summerset Winery
Arts and Crafts — Green Arts
The Turner Jazz Center will provide a home for jazz education and performance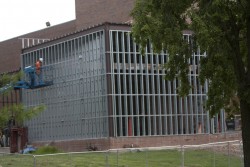 Construction continues on Turner Jazz Center.
Concertgoers will have the opportunity to check out progress on the
$1.5 million Fred and Patty Turner Jazz Center, which is under
construction on the northwest corner of the Harmon Fine Arts Center.
When completed in late November, the 4,600-square-foot facility will
include a practice and performance hall with seating, a jazz gallery,
piano alcove and recording studio.
The center is made possible by a gift from Fred Turner, a Des Moines
native who attended Drake from 1951 to 1953 and is now retired senior
chairman of McDonald's Corp. Turner met his late wife, Patty, a
talented musician, when they were both students at Drake. To honor her
memory, the center will include a lounge named Patty's Place.
Jazz in July at Drake is
presented by Friends of Drake Arts in conjunction with the Drake
Business Association, the Drake Alumni Association, the Drake
Neighborhood Association and the Drake Neighborhood Farmers' Market.
The market will be open from 4 to 7 p.m. Wednesday in the parking lot of First Christian Church, 2500 University Ave.
For the entire Jazz in July schedule, check the Metro Arts Alliance calendar.