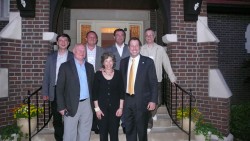 Maddy and David Maxwell pose for a photo with all of their dinner guests.
Drake President David and Maddy Maxwell hosted a dinner at their home last month for a delegation from Stavropol, Russia, one of Des Moines' sister cities.
The dinner featured Iowa foods and numerous toasts in Russian, including one offered by President Maxwell, a renowned scholar of Russian literature.
Also representing the University at the dinner were Deputy Provost Sue Wright along with Drake Board of Trustees members Ben Ullem and Dan Jacobi, who were accompanied by their wives, Martie and Pat, respectively.
"This was a remarkable dinner, carefully planned by the Maxwells, specifically for our Russian delegates," said Vidal Spaine, chairman of the Stavropol Committee of the Greater Des Moines Sister City Commission.
"The Maxwells had a lot to share, based on their experiences living and traveling in Russia. The delegates were impressed with President Maxwell's knowledge of Russian history and language. I want to thank the Maxwells for providing this opportunity for our delegates, and look forward to more exchanges in the near future."
The leisurely dinner gave the five members of the Stavropol delegation a respite from their hectic schedule during a four-day visit to Des Moines.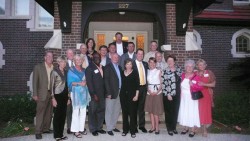 Igor Bestuzhiy, Maddy and David Maxwell; back row: Konstantin Muravyev, Viacheslav Sergienko, Dionis Dzhanov, Yury Gridnev.
They toured the Des Moines Water Works, Anderson Erickson Dairy, Mercy
Medical Center, the Pappajohn Sculpture Park and the State Capitol. In
addition, they visited the local wastewater treatment plant and met with
Des Moines Mayor Frank Cownie, officials in charge of traffic and
housing services, education leaders and Iowa Department of Natural
Resources officials.
The delegation consisted of:

Igor Aleksandrovich Bestuzhiy, vice mayor of the city of Stavropol
Konstantin Aleksandrovich Muravyev, head doctor of the Municipal
Healthcare Institution City Clinical Hospital No. 3 and deputy of the
Stavropol City Duma
Dionis Alekseevich Dzhanov, general director of
Advertisement-Service Group Ltd. and deputy of the Stavropol City Duma
Yury Ivanovich Gridnev, deputy minister of Stavropolskiy Kray
Natural Resources and Environment Protection
Viacheslav Stanislavovish Sergienko, director of the Municipal
Unitary Enterprise Vodokanal of the city of Stavropol
Although no education officials from Stavropol were part of the
delegation, Stavropol Vice Mayor Bestuzhiy said education is
particularly important to the sister-city relationship.
"International connections are made for peace, and peace is made by
young people," he said in an interview with the Des Moines Register.

While a student exchange program exists between Des Moines and
Stavropol schools, the Greater Des Moines Sister City Commission would
like to see an increased teacher exchange, according to Matt Rosen,
chair of the commission.
President Maxwell said he has been in contact with the rector of
Stavropol State University and plans to talk with him about
opportunities for the two institutions to collaborate.
"Maddy and I were delighted at the opportunity to host the Stavropol
delegation, although resurrecting my rusty Russian was a bit unsettling
at first," said President Maxwell.
"Drake University has a strong commitment to the expansion of
international opportunities for our students, faculty and staff, and it
is our hope that our discussions with Stavropol State University will
lead to some productive and exciting initiatives for both partners."