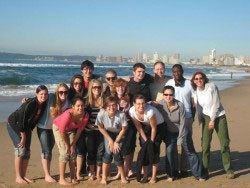 Drake students gather for a group photo in South Africa.
Thirteen Drake students recently spent more than two weeks in South Africa visiting numerous historical sites and studying the country's vibrant and complicated past.
Before and during the trip, the students were exposed to South African films, oral narratives, poetry, non-fiction and fiction writing in order to think critically about issues related to apartheid, race, gender, class, sexuality and ethnicity in South Africa. View
photos of the trip online.
Assistant Professors of English Melisa Klimaszewski and Jennifer Perrine led the seminar and accompanied the students on the trip, Drake's first to South Africa.
"South Africa was incredible," said Chelsea Rink, a sophomore English and secondary education major from Davenport, Iowa. "With this seminar, my eyes opened to new places, new concepts and new kinds of people."
The trip's main goal was to help students understand the turbulent history of the country and race relations before, during and after apartheid. They visited several historical sites, including:

"By traveling abroad to visit South Africa and learning about its history in the country itself, students see and hear the history from the voices of South Africans themselves," Klimaszewski said. "In turn, we became more aware of the responsibilities attached to our own privileges in the United States."
Ben Hoffman, a junior writing and secondary education major from West Des Moines, Iowa, agreed with Klimaszewski.
"The experience was unique because South Africa is so different from anywhere else," said Hoffman. "The trip made me a global citizen because it helped me recognize aspects of my American-ness that I had never realized before."
After returning to Des Moines, the students and professors met at Drake for post-travel discussions and writing workshops.
"Co-leading a class that, in many ways, lasted 24 hours a day for 18 days made me more reflective about my teaching and increased my appreciation for how much students contribute to my learning process," Perrine said. "This was a valuable experience for everyone involved."