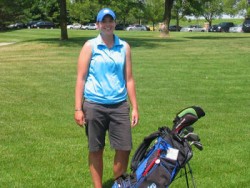 Leanne Smith
Leanne Smith, who has served as an assistant coach for Drake men's and women's golf teams since 2006, has been promoted to head women's golf coach.
Along with head coach Scott Bohlender, Smith undertook a start-up program in women's golf in 2006. In four years, it has scored three All-American Scholars, an All-Missouri Valley Conference medalist and an at-large berth in the 2010 NCAA Central Regional.
"It is with great enthusiasm that I welcome Leanne Smith as the new head women's golf coach at Drake University," said Drake Athletic Director Sandy Hatfield Clubb. "As the former assistant coach of our men's and women's golf programs, she demonstrated both extraordinary coaching skills, as well as the ability to establish a highly effective relationship with her players.
"Drake is fortunate to add her to the head coaching ranks, and I look forward to the program continuing to flourish under her leadership."
"I am really excited to take over the women's program at Drake," Smith said. "I have had such a great experience these last four years and I am thankful to Coach Bohlender who has helped me so much. We have a great group of women coming back this year and I can't wait to get started."
"Leanne has been part of our program for four years and has been instrumental in growing our students into better people as well as better golfers," Bohlender added. "She has been involved in almost every aspect of the program from day one and I am confident the transition will be a smooth one for all involved."
A Creston, Iowa, native, Smith was a four-year letter winner at Iowa State University, where she earned Big 12 Academic All-Conference honors in 2002 and 2003. She received a bachelor's degree in marketing, with a coaching minor, in 2004.
Smith played in the U.S. Amateur Golf Championship in 2001 and 2004 as well as in the 2004 U.S. Women's Publinks Championship. She won the Des Moines Women's City Tournament in 2002 and 2004 and was runner-up in the 2009 Iowa Women's Amateur Golf Championship.