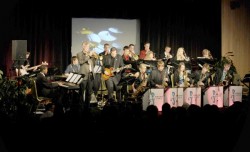 Members of Drake Jazz One perform at a concert in Chicago earlier this year.
Drake University Jazz Ensemble One, under the direction of the Fred and Patty Turner Professor of Jazz Studies Andrew Classen, will tour Europe for two weeks this summer, performing at various jazz festivals and local venues. During the trip, students are writing a blog online to document their experiences.
"On Drake Jazz European tours, the band becomes just like a touring professional band," Classen said. "There are no rehearsals, only gigs. The band coalesces, and individuals become more confident and more daring in their playing. The audiences are incredible, which just fuels the fire in the band."
The tour, which will take place from July 8 to July 21, will feature stops in the Netherlands, Belgium, France and England, including performances at:

This will be the ensemble's fourth trip to Europe and fifth performance at the North Sea Jazz Festival. Consistently awarded outstanding ensemble and soloist honors at the University of Wisconsin Eau-Claire Jazz Festival, the Notre Dame Jazz Festival and the University of Kansas Jazz Festival, the band has also performed at the Montreaux Jazz Festival, the Elmhurst Jazz Festival and the Iowa Jazz Championships.
"Because I'm graduating, I'm really happy to have the opportunity to perform and hang out with my Drake friends before I move to pursue my master's degree at Florida State University," said Pam Neubauer, a senior music major and business minor from Cumming, Iowa.
Neubauer, who serves as principal trombonist, said that one of the band's strengths is its ability to play in a variety of jazz styles. "It's not like we're just playing all blues tunes," Neubauer said. "The music we're playing is really varied, and it comes from many genres. The set is eclectic enough to offer something for every listener."
"I'm very excited to go; I've never left the Midwest before," said tenor saxophonist Roland Hart, a first-year music and psychology major from Cedar Rapids, Iowa. "I'm most looking forward to the North Sea Jazz Festival in Rotterdam. We'll get to hear some of the best jazz musicians in the world."
Kyle Glavanovits, who also plays tenor saxophone, agreed with Hart, saying that he was most excited for the North Sea Jazz Festival.
"This is my first time going overseas, and I get to do what I really love: play jazz," said Glavanovits, a first-year music performance and jazz studies major from Bollingbrook, Ill. "The music we'll be playing is dynamite; the band is superb, and we're playing a lot of great charts. Professor Classen knows a lot about jazz and we can learn a lot from him."
Classen said that the band's continued commitment to quality and high standards, in addition to the University's enthusiastic support, are the reasons for the group's success.
"I think the value of the Drake Jazz Program is in the standard of excellence that has become our tradition," Classen said. "Students come into the band knowing its reputation, and they learn what it takes to strive for and achieve our high performance goals. The habit of striving for excellence through a team effort is a life skill that will serve each student — no matter what profession they choose."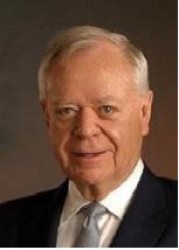 Fred Turner
Band members plan to visit McDonald's
restaurants abroad
In addition to the University, Drake Jazz Ensemble One has also found a
stalwart supporter in Fred Turner, retired senior chairman of Mcdonald's
and Drake alumnus. Turner,
who recently donated $1.5 million for the construction of the Fred and
Patty Turner Jazz Center, has provided $1,500 towards the cost of
each student's travel expenses for the tour.
In celebration of Turner's generosity, Drake established the annual Fred
and Patty Turner Jazz Concert. To show their appreciation for Turner's
support, Classen and the ensemble plan to take a group photo at a
McDonald's in every country they visit, eventually assembling an album
for Turner.
"Now that the band and I have a personal relationship with Fred, only
more great things can follow," said Classen, whose position at Drake was
endowed by a $1 million gift from Turner in 2008. "I have dreamed of
something like the Turner Jazz Center for years, but never thought we
would have the financial resources to make it happen. It is a new
chapter for jazz at Drake, and the possibilities are limitless."