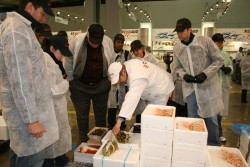 The Drake group gathers for a tour of the Rungis Market.
A group of eight Drake University graduate business students recently gained new perspectives during a travel seminar in Europe focused on how foreign businesses operate in the global arena.
The Global Business Perspectives course, which was first offered by Drake this summer, took the students to a variety of businesses and organizations in London, Paris and Geneva.
View photos from the trip in an online gallery.
Students toured the international businesses and talked with executives to gain an understanding of:

The domestic business environment of each country
Risks of attempting to partner with firms in the country from a U.S. perspective
How firms in the foreign country view interaction with U.S. firms and the global marketplace
Cultural and political forces shaping business in the foreign countries discussed
The role globalization is playing in shaping U.S. business decisions
"The real value of the trip is the unique opportunities we experienced," said Jill Spiekerman-Carrothers, who recently completed the Master in Communication Leadership program. "We had audiences with senior executives, including the United Nations director of sustainability.
"With Drake, we walked right in to the headquarters of international companies, and we were able to ask direct questions — that's something you could never do on your own," she added.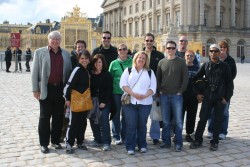 Drake students and faculty gather for a group photo at the Palace of Versailles in France.
Among the businesses and groups on the itinerary were the London Metal
Exchange, Aviva London offices, Universite D'Auvergne in
Clermont-Ferrand, the United Nations and Michelin.
"For me, one of the coolest parts of the trip was visiting Michelin's
company headquarters in France," Spiekerman-Carrothers said. "We had
some great discussions regarding risk management and crisis
communication.
"I was interested in their brand icon and management — especially with
what the Michelin Man represents in different countries," she added.
Another student, Micah James, said his favorite part of the trip was in
Paris when the group got a behind-the-scenes look at the Rungis City
Market.
"From an operations prospective, the market was an impressive sight as
it is the largest food market in the world feeding more than two million
people a day," he said.
In addition, the students had free time to do some sightseeing at the
Eiffel Tower and museums, among other attractions. Beyond the culture
they experienced, the students agreed that they learned much about the
global marketplace.
"We learned that the world is so much more global than it used to be —
no one operates in just one country, and everyone across the world cares
about sustainability," Spiekerman-Carrothers said. "These issues are
common whether you're based in France or the United States."