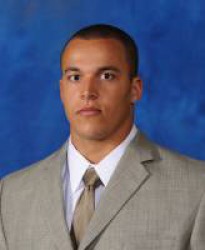 Dain Taylor
Drake senior Dain Taylor has been named to the Consensus Draft Services Preseason Football College Subdivision All-American Team. Taylor, of Highlands Ranch, Colo., was selected to the second team.
Taylor serves as co-captain of the Drake football team and will be entering his third season as a starter. The Bulldogs posted an 8-3 record last year, including a 6-2 second-place finish in the Pioneer Football League.
"Dain is as passionate about football as anyone I have ever coached," said Drake Head Football Coach Chris Creighton. "In his final off-season, he has set new personal records in all eight strength and conditioning categories. We have high expectations for Dain this fall."
Taylor earned first-team all-league honors last year after collecting 48 tackles, including 29 solos. He led Drake with 19.5 tackles for losses totaling 90 yards, while recording a team-high 10.5 quarterback sacks for 73 yards in losses.
The Bulldogs will open their 117th season of intercollegiate football playing host to Lehigh University on Saturday, Sept. 4. Drake will play five home games, including a Nov. 13 game against defending Pioneer Football League champion Butler University.