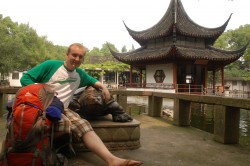 O'Neil visits Fangsheng Pond inside the Xiyuan Temple in Suzhou, China.
Prior to a month-long research study on urban youth in China, Drake University student Tyler O'Neil is spending two weeks exploring China and maintaining a travel blog about his experiences.
O'Neil, a senior journalism and international relations major from West Branch, Iowa, is part of a research team of Drake students led by Associate Professor of Sociology Darcie Vandegrift. The group will spend four weeks in Nanjing, China, conducting sociological research thanks to a grant award from the ASIANetwork Freeman Student-Faculty Program Fellowship.
Read more about the grant and the research it is supporting online.
O'Neil set off for China two-weeks prior to the Nanjing study in order to explore sites in Shanghai, Hangzhou and Yangshuo. He is blogging and sharing photos chronicling his day-to-day discoveries and observations.
"This trip is immersing me in Chinese culture," O'Neil said. "Although a six week journey can hardly count as a full immersion, it's shown me so many fascinating things and ignited a passionate interest in Chinese culture and society."
O'Neil said that the opportunity to travel abroad is honing his research skills and providing him with real-life journalistic experience.
"I'm not a sociologist by any means, and although my interviewing skills gleaned from three years of journalism instruction have been helpful, ethnographic exploration is a completely different way to gather information," he added.
"This trip has helped me realize my capabilities for exploration — I've learned to stick my neck out and pursue adventure. My experiences in China, combined with instruction from Drake's fantastic faculty and out-of-classroom opportunities in Des Moines, have been excellent preparation for a future journalism career."