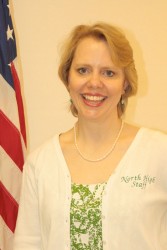 Jessica Gogerty
President Barack Obama recently announced that Jessica Gogerty, a graduate student in Drake's School of Education and a science teacher at Des Moines North High School, is one of 103 teachers nationwide selected as recipients of the Presidential Award for Excellence in Mathematics and Science Teaching.
"I was a state finalist for this award in 2007 and 2009, so to be selected on the national level is a huge honor and quite a surprise!" Gogerty said.
Gogerty has worked for the Des Moines Community School District for 22 years. She has enrolled in Drake's Specialist in Education program to enhance her teaching effectiveness within her classroom.
"As a teacher leader, I have a responsibility to create the structures that ensure that every student gets an excellent education," Gogerty said. "I have taken this responsibility seriously and I now need to invest in my own education to further the goal of a first-rate education for my students."
Gogerty has family ties to the School of Education. She is the daughter of Chuck Greenwood, associate professor emeritus of education, and Joan Roberts, a Drake graduate who is an adjunct faculty member and newly appointed interim principal of Des Moines Lincoln High School.
The Presidential Award for Excellence in Mathematics and Science Teaching is awarded annually to the best pre-college-level science and mathematics teachers from across the country.
A panel of distinguished scientists, mathematicians and educators following an initial selection process done at the state level selects the winners.
Each year the award alternates between mathematics and science teachers teaching Kindergarten through 6th grade, and those teaching 7th through 12th grades. This year it goes to teachers teaching 7th through 12th grades.
Winners of this Presidential honor receive a $10,000 award from the National Science Foundation to be used at their discretion. They also receive an expenses-paid trip to Washington, D.C., for an awards ceremony and several days of educational and celebratory events, including visits with members of Congress and science agency leaders.
Gogerty said she plans to use part of her award money to earn her graduate degree. "As for the rest of it, I haven't yet decided," she added. "In my heart, I know that I will be investing some of this money into Dear Old North High, although it's still too soon for me to say exactly how."
She attributed her national award to the widespread support she has received from the North High staff, students and community, as well as from the Downtown School staff and students who helped her with her application.
"The Des Moines Public School District is an excellent place to work and learn," she said. "I am very grateful to be part of such excellence.

Several faculty members in Drake's School of Education also played key roles in the application process, Gogerty said.
"Among them are my mother and editor, Joan Roberts, and Tom Drake, clinical assistant professor and director of student teaching," Gogerty added. "Tom wrote me a letter of recommendation after I sponsored several Drake practicum students and a Drake student teacher. Both Tom and my mother are excellent educators from whom I've learned so much."
In announcing the recipients of the Presidential Award for Excellence in Mathematics and Science, President Obama said, "Today we honor some of the best teachers and thank them for their dedication. They are inspirations not just to their students, but to the nation and the world."