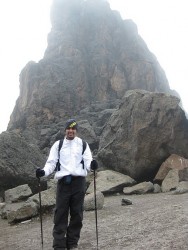 Nabeel Meghji, AS'05, stops for a photo during a climb.
When Nabeel Meghji, AS'05, stood on the peak of Mount Kilimanjaro and watched the sunrise, he felt pride from conquering one of the top seven summits in the world and a constant, looming presence during his childhood in Tanzania. He was also remembering the AIDS orphans in his home country — kids who would now have better lives thanks to his efforts.
Meghji, a strategist at CDS Global in Des Moines, and Iowa native Shayne Huston formed a plan that would allow Meghji to scale a major summit while also bringing aid to his home country — the fourth poorest country in the world.
"After seeing children orphaned by AIDS and living in poverty, I always felt obliged to give back in some way or another," Meghji said. "I decided to climb Kilimanjaro and use the event as an opportunity to raise funds for orphans in Tanzania."
According to the World Health Organization, more than 15.6 million children under the age of 10 in sub-Saharan Africa have lost at least one parent to AIDS.
These orphans are prone to sickness, malnutrition, illiteracy, unemployment, homelessness and crime. View a video of the Tanzanian orphanages online at www.youtube.com/Peak4Poverty.
Meghji and Huston created a website and blog, christened the initiative Peaks 4 Poverty and harnessed the power of social media to draw awareness — and solicit donations — to benefit orphans in Tanzania.
Peak 4 Poverty is a nonprofit organization that organizes a twice-yearly climb and fundraising effort. The organization's goal is to educate Tanzanian orphans through trade school or college, allowing them to give back to the next generation of orphans and perpetuate a cycle of philanthropy.
For the first climb organized by Peak 4 Poverty, Meghji assembled a 10-member team. They reached the peak of Kilimanjaro after a five-day ascent — they had persevered through darkness, thin air, cold and exhaustion.
After the climb, Meghji spent an additional two weeks in Tanzania distributing nearly $5,000, dividing the funds among six orphanages to be used for basic needs and education.