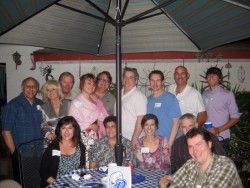 Last month, a group of west coast alumni gathered for a Bulldog Bash at the home of Jean Rosone, AS'90. Alumni reminisced and talked about the upcoming Hollywood Bowl gathering on Saturday, Sept. 11.
Alumni pictured in the photo include:
Front Row (L-R): Michelle Nassif; Jean Rosone, FA '76; Gillian Friedman, AS'90; Don Hook, FA '78; Sean Gannon, FA '91;

Back Row (L-R): Nicholas Nassif, LA'84; Eva Blaisdell; Jerry Knippenberg, BN'61; Elizabeth Beall; David Beall, BS'81; Brian Harms, AS'89; Jon Boyden FA'77; Jeff Pielet JO'76; Josh Tomme, BN'08.
Also in attendance were Jerry Spencer, ED'64 and Jennifer Fah, JO'95.
Hollywood Bowl Concert and Picnic set for Sept. 11
Drake alumni are invited to pack a picnic dinner and attend an upcoming Hollywood Bowl concert featuring the Los Angeles Philharmonic. The event will provide attendees with the opportunity to reconnect with old friends and meet new Drake alumni, all while enjoying a night of music, food and fireworks.
The pre-concert picnic begins at 6 p.m. and the concert will start at 8:30 p.m. followed by fireworks. The picnic will be held in Parking Lot D — the South Fairfield Lot — between Milner Road and Odin Street. The Bowl is located at 2301 N. Highland Ave.,just off the Hollywood Freeway. Information is available at www.hollywoodbowl.com.
Cost for the concert ticket is $33 per person and RSVP is requested by Monday, Aug. 2. Tickets will be mailed to the Office of Alumni and Parent Relations, 515-271-3174 or alumni@drake.edu.
For more information, contact Laurie Woken Manny, BN'82, at 661-428-6578 or ljatbbk@aol.com, or Brian Harms, AS'89, at 310-829-8429 or bfharms@aol.com.