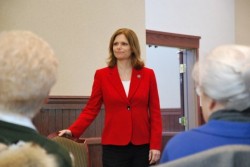 Tarryl Clark
State Sen. Tarryl Clark, D-Minn., AS'83, is a Democratic-Farmer-Labor (DFL) candidate for Congress in Minnesota's 6th District, opposing incumbent Rep. Michele Bachmann, R-Minn.
Clark was elected to the State Senate in 2005, following her election as Associate Chair of the Minnesota DFL in 2003. She represents District 15, including Saint Cloud, Waite Park, Saint Augusta and Rockville, and serves as the Senate's Assistant Majority Leader.
As a State Senator, Clark has worked for fiscal responsibility and sensible solutions, leading efforts to protect senior citizens, bolster early childhood education, and help veterans returning from combat duty transition into to civilian life.
Clark serves on the Governor's Workforce Council, Early Childhood Advisory Council and the Senate's Education and Higher Education policy, finance and rules committees.
In addition, she works closely with the following state organizations:

St. Cloud District 742 Finance Study Group, which aims to help local schools make the most of their budget
St. Cloud Housing and Redevelopment Authority of St Cloud, which helps to create jobs and affordable housing throughout Central Minnesota
St. Cloud Chamber of Commerce, which works to build local infrastructure and secure funding for much-needed local projects
Clark has been endorsed by several high-profile elected officials, including Vice President Walter Mondale (D), Sen. Al Franken, D-Minn., and Rep. Jim Oberstar, DFL-Minn.
Clark, who graduated from Drake with a bachelor's degree in sociology, holds a master's degree in educational counseling from Arizona State University and a law degree from William Mitchell College of Law in St. Paul.
She lives in St. Cloud, Minn., with her husband Doug and sons Collin and Nathan.