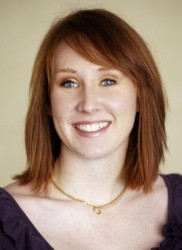 Erika Hoefer
Memories and thoughts of Erika Hoefer flooded the 2005 Drake graduate's Facebook page yesterday as news stories confirmed that she was one of four passengers who died in a plane crash in Montana.
Hoefer, 27, was a business reporter at the Daily Interlake in Kalispell, Mont. She and a fellow news reporter and two others were traveling in a small single-engine plane to sightsee at Glacier National Park last Sunday afternoon when the plane dropped off radar. Read more online.
Friends and colleagues remember Hoefer for her love of adventure. Her Facebook note about herself even says: "Sometimes misadventures make better reading than adventures…"
"She posted on Facebook that she was going for a tour of Glacier National Park in a private plane," said Pat Prijatel, retired director and E.T. Meredith distinguished professor of journalism. "I hit the 'like' button — it sounded like an adventure that matches Erika perfectly.
"She lived life fully and we can take a little comfort in the fact that she spent her final hours happy, doing what she wanted and in a natural paradise."
The daughter of Candy K. and William D. Hoefer and a native of Beloit, Wis., Hoefer earned a bachelor's degree in journalism and mass communication. After college, she joined the Beloit Daily News staff designing page layouts and writing local and government stories. Later, she worked at North Shore Magazine in the greater Chicago area as senior designer.
During her college career, Hoefer was the consummate journalism student. She served as photo editor for the Times-Delphic campus newspaper and was creative director for her senior capstone magazine, Launch.
"Erika was as lively as that red hair of hers. She helped Launch magazine become a national award winner while she was at Drake," Prijatel added.
"Her role as creative director matched her many talents — photography, graphic design, and, of course, writing and editing. She was a great conceptualizer and could bring all aspects of a message together logically, thoroughly and with an aesthetically strong presentation."
Hoefer earned the respect of many Drake students, especially those who worked with her on Launch magazine.
"I've been running through this one Saturday in late 2004 that Erika and I spent up in the Carnegie computer lab pouring through Pantone-coated chip books trying to pick our color palette for Launch," said Alecia Sharp, a 2005 journalism graduate — a classmate and friend of Hoefer's.
"We spent hours trying to define that palette. Neither one of us would settle on a compromise — I guess we're a little alike in that way"¦We were looking for energy, style and confidence — in hindsight, we were defining a magazine that was very much suited to who Erika was."
Another former professor, Angela Renkoski, who led an annual trip to New York for magazine majors, characterized Hoefer as a "jack-of-all-trades reporter."
"She wrote me when she became a full-time reporter and was thrilled to be moving into writing," Renkoski said. "She was also amused at herself for ending up as a reporter and she wanted to share her gratitude to all her instructors at Drake who had helped her. I was honored.
"Erika's infectious spirit and curiosity about magazines and life were a joy to be around. She was a sparkling presence on our annual trip to New York and in the classroom. She will be missed."