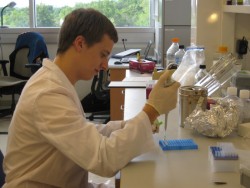 FOR IMMEDIATE RELEASE
June 28, 2010
DRAKE PHARMACY STUDENT PUTS SKILLS TO THE TEST AT SUMMER TOXICOLOGY INTERNSHIP
Drake University pharmacy student Nathan Verlinden is spending his
summer examining mouse livers during a research internship at the
University of Kansas Medical Center in the Department of Pharmcology,
Toxicology and Therapeutics.
Verlinden of Manitowoc, Wisc., who is in his second year of the
Professional Pharmacy Program, applied for the internship because of
his interest in pharmacology research.
"My research this summer is concerned with the effects of vitamin A
in mouse livers," said Verlinden. "This research is important because
vitamin A signaling in a liver can be used to treat liver cancer and
promote liver regeneration after damage."
Verlinden added that the internship provides him with preparation necessary for graduate studies.
"The internship has been a great learning experience," he said. "I
have been exposed to laboratory techniques and research on current
health issues and real-world problems. I have also been given the
opportunity to interact with other faculty members, post-doctoral
fellows and research assistants — this experience is great for
networking with other scientists."
At Drake, the many research opportunities available for undergraduates inspires students to pursue scientific study.
"I was able to start doing research my sophomore year," Verlinden
said. "Drake is a great place to do undergraduate research because
class sizes are small and faculty members get to know their students
personally."
Nivedita Pandit, professor of pharmaceutics, and Pramod Mahajan,
associate professor of pharmaceutical studies, provided letters of
recommendation for Verlinden during the internship application process.
"I think the main reason for Nate's success is his motivation,
intelligence and diligence," Mahajan said. "What institute would not
want an ambassador and a role model like Nate?"
Mahajan said that the Drake experience offers excellent opportunities for students and faculty alike.
"Bright students want to come to Drake for learning skills that
prepare them for bigger and better opportunities," he said. "Many
dedicated teachers are attracted to Drake because they know how eager
Drake students are to learn — Drake is recognized as an institution
that trains tomorrow's leaders in science."