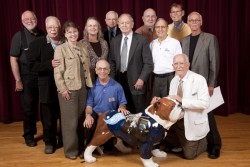 The 2009-10 academic year was an eventful one for the 420 lifelong learners in Drake University's RaySociety, which recently celebrated its seven-year anniversary.
The event, which was followed by a reception, was moderated by Pat Moran, who serves as vice president of the society, and featured remarks from:

• Drake President David Maxwell

• Don Moon, chair of the Articles of Association Review committee

• Sandy O'Brien, head of the nominating committee

• Drake Deputy Provost Sue Wright
Maxwell thanked the organization's members for their participation in the life of the University.
"I am very appreciative of the partnership between Drake and the RaySociety," Maxwell said. "Drake's mission is to prepare students, ideally, to be you. The University wants to convey the message that learning takes place over a lifetime."
In addition, the RaySociety unanimously elected two members to officer positions, recognized board members who were retiring, acknowledged Drake staff and faculty members and thanked the University for its support. The newly elected officers are Mary Ellen Streyffler, who will serve as board secretary, and Steve Larson, who will serve on the board as an at-large member.
To conclude the meeting, Drake alumnus Steve Berry performed a musical salute to former Iowa Gov. and past Drake President Robert D. Ray. Ray and his wife, Billie, alumni for whom the society was named, were both at the meeting.
The RaySociey is a volunteer-driven, lifelong learning organization associated with and supported by Drake University. It is designed to provide non-credit educational opportunities, activities and events to individuals of retirement age in central Iowa and to provide a social setting for people to meet and exchange ideas with others of similar interests.
For the first time this year, the RaySociety had its own classroom reserved exclusively for the organization's use. Read more about the classroom in the Dial Center here: https://wwww.drake.edu/news/db/official/archive.php?article=4709.
Fore more information about the RaySociety's programs, visit https://wwww.drake.edu/raysociety/ or call 515-271-2120.