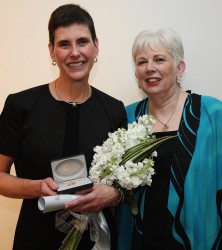 Aimee Beckmann-Collier, left, poses with Saint Mary's College President Carol Ann Mooney after the award presentation.
Drake University Director of Choral Studies Aimee Beckmann-Collier recently was honored by her alma mater for her extraordinary professional leadership in the field of music.
The Alumnae Association of Saint Mary's College in Notre Dame, Ind., presented the Distinguished Alumna Award to Beckmann-Collier at a ceremony on June 5.
The award is the association's highest recognition and is given annually to an alumna who exemplifies the standards, ideals and mission of the College and who has demonstrated outstanding service through ongoing work for the Alumnae Association.
"I'm humbled and deeply honored to receive this award from my beloved Saint Mary's, just as I am grateful for the marvelous education I received there," Beckmann-Collier said.
"I have tried to exemplify the ideals of the college in my own teaching, since my experience at Saint Mary's had a profound impact on my life. It was a particular joy to take the Drake Choir and Chamber Choir to Saint Mary's this past March, so that they could sing in a marvelous venue and be embraced by the hospitality of that learning community."
Beckman-Collier's nominator, Debbie Johnson Schwiebert, praised the Drake professor's dedication to academia and her love of music.
"In the 35 years since her graduation, at which she was valedictorian for the Class of 1975, Aimee has unfailingly used her time, talent and treasure to enrich the lives of Saint Mary's women, as well as the lives of the young women and men under her tutelage," Schwiebert said.
Beckmann-Collier, of West Des Moines, joined the Drake faculty in 1989 and serves as professor of conducting. She received a bachelor's degree in music from Saint Mary's College and master's and doctoral degrees in choral conducting from the University of Iowa.
Beckmann-Collier has conducted the Drake Choir and Chamber Choir in England, Austria, Italy, Germany and the Czech Republic. She has conducted the New York, Nebraska, Colorado, Utah and Missouri All-State Choruses and has also served on the adjudication panel for the American Choral Directors Association national conducting competition.
She serves as chair of the Iowa Comprehensive Musicianship Project, a mastery-teaching program for music educators. She is president of the North Central Division of the American Choral Director's Association, the country's elite organization for choral specialists.
An active member of her alma mater's alumnae association, Beckmann-Collier was on the association's Board of Directors from 1986-92 and has served as president of the Saint Mary's Des Moines Alumnae Club for 12 years. She has served on the Class of 1975 Reunion Gift Campaign Committee and will be committee chair this year.
Saint Mary's College is a four-year Catholic women's institution offering five bachelor's degrees and more than 30 major areas of study. Founded in 1844, Saint Mary's is a pioneer in the education of women, and is sponsored by the Sisters of the Holy Cross.