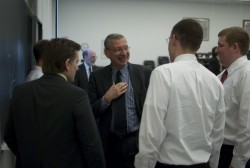 Experts discuss same-sex marriage before the symposium.
Some of the most prominent North American experts came together to debate both sides of the same-sex marriage issue at the Drake Law School Constitutional Law Center's annual symposium on April 10.
At the symposium, the experts discussed the 2009 Iowa Supreme Court's decision to legalize same-sex marriage and other related issues. Their papers will be published in a forthcoming edition of the Drake Law Review.
"After the event, symposium speakers met at the airport for lunch and continued their discussion," said Law School Dean Allan Vestal. "That is a testament to the fact that it was a constructive conversation with a real diversity of views."
An overflow crowd filled the Law School's largest classroom and another 40 people watched the proceedings in a room with a live video feed.
The symposium also attracted the attention of the conservative Westboro Baptist Church, which protested the event on the south side of University Avenue across from Old Main.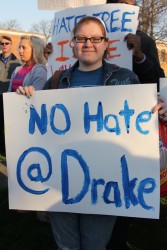 A Drake student holds a "No Hate at Drake" sign during the counter-protest.
Hundreds of Drake students and Des Moines community members held a large and peaceful counter-protest.
Meanwhile back at the Law School, the symposium's initial panel focused on the broad question of whether same-sex marriage should be legal. The first speaker was Maggie Gallagher, president of the Institute for Marriage and Public Policy in Washington, D.C.
Gallagher argued that most Americans disapprove of same-sex marriage and that heterosexual marriage is a deeply embedded, yet fragile social institution. It keeps fathers bound to mothers, through their biological children in many cases, and this deters males from being more promiscuous, Gallagher said.
The response to Gallagher was offered by Andrew Koppelman, the John Paul Stevens professor of law and professor of political science at Northwestern University. He argued that same-sex marriage provides important benefits to the new kinds of families that exist in the United States as well as to the society as a whole.
Koppelman pointed out that research on marriage in more traditional "red states" and in more liberal "blue states" shows plenty of failed marriages, examples of promiscuity and falling fertility rates in "red states." Koppelman also pointed out that no evidence shows that same-sex couples undermined heterosexual marriage or did a lesser job of raising children.
The next panel focused on the constitutionality of the Federal Defense of Marriage Act (DOMA), which bans the national government from recognizing same-sex marriage and authorizes any state not to recognize another state's same-sex marriage.
Mark Strasser, the Trustees professor of law at Capital University Law School, said that DOMA is unconstitutional because it displaces
traditional state authority over family law issues.  Moreover, DOMA modifies the accepted legal principle that each state must recognize the legal acts of other states.
The response to Strasser was offered by Lynn Wardle, the Bruce C. Hafen professor of law at Brigham Young University Law School. Wardle argued that moral issues like this were for the people to decide through their representatives, who enacted DOMA. In addition, Wardle said lawsuits brought against federal DOMA have failed so far.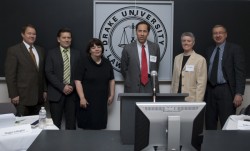 Panelists gather for a group photo after the debate.
The last panel was on the economics of same-sex marriage. The first speaker was Lee Badgett, director of the Center for Public Policy and Administration and professor of economics at the University of Massachusetts-Amherst.
Badgett said that empirical research revealed that same-sex couples are remarkably similar to opposite-sex couples in terms of need for benefits, numbers of children, need for security, stability, etc. She said civil unions are insufficient and often result in second-class status.
The response came from Douglas Allen, the Burnaby Mountain professor of economics at the Simon Fraser University in Vancouver, Canada. Allen examined different kinds of possible marital relationships, and their purposes, to try to assess their costs and benefits. He emphasized the importance of fertility and biological reproduction and said it was hard to justify same-sex marriage under such a valuation assessment.
Moderators of the program were Mark Kende and Ian Bartrum. Kende is the James Madison chair professor of constitutional law and director of the Drake Constitutional Law Center. Bartrum is an assistant professor of law at Drake. Kende organized the event through the Drake Constitutional Law Center. Support also came from the law firm of Belin, McCormick P.C. and the Drake Law School.