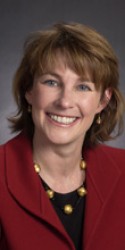 Jane Lorentzen
As 141 law graduates crossed the stage at Drake Law School Commencement last weekend, the first person to offer words of wisdom was alumna and Iowa State Bar Association President Jane Lorentzen. A video of the ceremony is available on the Drake Telemedia Center's website.
Lorentzen, a 1991 graduate of Drake Law School and Martin Tollefson Award winner, gave a keynote address on "A Time To Lead." She encouraged graduates to "assume a leadership role for the good of someone or something other than you."
She said, no matter the role — from a school board to the Iowa legislature — graduates should get involved and make their leadership dreams reality.
Lorentzen added that she owes much of her success to people who helped her along the way, and new graduates should be grateful for help because they will need it as they enter the profession.
"The successes I have had, in large part, have been the result of help and support from family and friends and from mentors, many of whom came from this Law School," she said.
Looking to others for help and having a Drake education are both key to understanding and succeeding in the complex practice of law, she said.
"Your education has focused on developing ways to work effectively with complexity. This is a marvelous skill in whatever you choose to do with your legal education."
Lorentzen also encouraged graduates to continue to develop what they have learned at Drake and to fight to maintain and preserve the judge selection system based on merit.
"Iowa judges are fair and impartial, because they are selected upon their qualifications, not because of endorsements or bankroll. It's a system we should be proud of…As you become Iowa's newest lawyers, please join me in educating the public on our system of merit selection."
An expert in the areas of workers' compensation and litigation, Lorentzen practices with Hopkins & Huebner P.C. in Des Moines.
She has been active in the Iowa State Bar Association, serving as president through 2009-10, president-elect in 2008-09 and vice president in 2007-08. In addition, she has been a member of the Polk Country Bar Association Board of Directors since 2001.
Lorentzen frequently speaks on issues of judicial independence and workers' compensation. She is vice president of the Des Moines West Side Chamber of Commerce, a member of the Board of Counselors of Drake Law School and the board's incoming president.