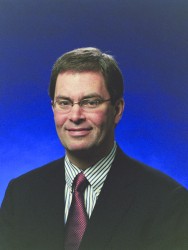 Mark Kende
Drake law professor Mark Kende recently published an opinion piece in the Christian Science Monitor on whether or not the United States should consider South African legal processes for Supreme Court nominations.
Kende, director of the Drake's Constitutional Law Center and author of  "Constitutional Rights in Two Worlds, South Africa and the United States," is an expert on constitutional rights in South Africa and the United States.
His opinion piece is titled, "Beyond World Cup soccer savvy, U.S. should look to South Africa on Supreme Court nominations."
Kende begins by comparing soccer teams in the United States and South Africa. He goes on to say that perhaps the U.S. should follow its own lead on borrowing approaches from South Africa to improve its soccer team, when it comes to its strategy in the Supreme Court confirmation process.
"As with soccer, the U.S. would benefit from the judicial system experiences of other countries, especially South Africa.
South Africa has adopted an approach to selecting judges for its highest court that ensures the seating of highly competent jurists without the extreme politicization that characterizes the U.S. process."
In South Africa, a host of possible candidates are selected for any opening and a commission interviews them in a public hearing and then sends the president more candidates than the number of openings. The president makes the final decision.
"This process reduces politicization substantially because members of both parties must come together and discuss candidates who are presumably acceptable generally,"
Kende argues that "Several other nations, and even a few U.S .states, successfully use a similar approach. The U.S. federal government should follow suit. It would enhance the U.S. Supreme Court's stature. It also would be consistent with Obama's promise of bipartisanship."