Drake University recently recognized faculty and staff members for
years of dedicated service at the 2010 Spring Faculty and Staff
Recognition Breakfast.
The University celebrated those who have been at Drake for 20
years, 25 years, 30 years, 35 years and 40 years, and those who will
retire this year.
Honorees each received an anniversary gift, which was an engraved
sand timer for 20 years of service, an engraved marble bookend for 25
years, the five star award for 30 years, an engraved Covington crystal
vase for 35 years, and an engraved clock for 40 years.
In addition, Drake retirees each received a marble-framed
photograph of Old Main, as well as the opportunity to join the
RaySociety. Two retirees, Sharon Culp and Dean Propp, won a drawing
through which they each received a free RaySociety membership for next
year.
The RaySociety was established in 2004 and consists of 20 courses
that are offered each semester to retirees. The group consists of 500
members who are involved in social events around campus as well as
tours.
Faculty members and staff who received recognition are listed below by years of service: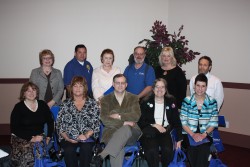 L to R: Charlene Skidmore, Beverly Shivers, Steven Faux, Sally Frank, Aimee Beckmann-Collier; 2nd Row: Lisa Lacher, Mark Risvold, Claudia Murphy, Robert Henderson, Sheralyn Dawn Devine, Arthur Sanders
20-Year Anniversaries

Aimee Beckmann-Collier, professor of conducting for the College of Arts and Sciences
Maria Clapham, department chair and professor of psychology in the College of Arts and Sciences
Stephen Clapham, professor of management and international business in the College of Business and Public Administration
Sheralyn Dawn Devine, records coordinator of advancement records in the Office of Alumni and Development
Steven Faux, associate professor of psychology in the College of Arts and Sciences
Sally Frank, professor of law in the Law School
Robert Henderson, computer and network technician
Linda Krypel, professor of pharmacy practice in the College of Pharmacy and Health Sciences
Lisa Lacher, director of media relations and public relations in the Office of Marketing and Communications
Donald Lorenz, mechanic for Facility Services
Ronda Menke, associate professor of journalism in the School of Journalism and Mass Communication
Kenneth
Meyer, Thomas F. Sheehan Distinguished professor of public
administration in the College of Business and Public Administration
Claudia Murphy, family service volunteer for Head Start
Rahul Parsa, professor of actuarial science for the College of Business and Public Administration
Mark Risvold, security supervisor for Campus Security
John Rozycki, associate professor of finance in the College of Business and Public Administration
Arthur Sanders, Ellis and Nelle Levitt Professor of politics and international studies in the College of Arts and Sciences
Beverly Shivers, receptionist for Goodwin / Kirk Hall
Charlene Skidmore, assistant director of the Honors Program and First-Year Seminar Program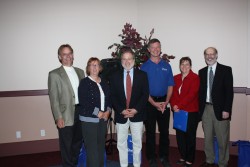 L to R: Robert Meunier, Jane Lynch, Dennis Goldford, Thomas Gaskill, Lori Flaws, John Edwards
25-Year Anniversaries

Jo Arbuckle, associate director of admission
John Edwards, associate dean for information resources and technology and professor of law for Opperman Law Library
Lori Flaws, data operations systems analyst for the Office of Alumni and Development
Thomas Gaskill, abatement duty engineer for Facility Services
Dennis Goldford, professor of politics and international relations in the College of Arts and Sciences
Scott Kerr, head athletic trainer for the Athletics Department
Jane Lynch, program assistant for the Office of Admission
Robert Meunier, professor of percussion and director of bands for the College of Arts and Sciences
Sherry VonBehren, administrative assistant for the Opperman Law Library
Ignatius Widiapradja, associate professor of art and design for the College of Arts and Sciences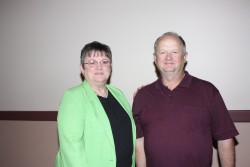 Ginger Wheeler and Scott Dirks
30-Year Anniversaries

Scott Dirks, mechanic for Facility Services
Ginger Wheeler, administrative assistant for the College of Business and Public Administration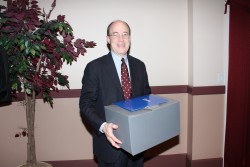 David Walker
35-Year Anniversaries

David Walker, Dwight D. Opperman Distinguished professor of law of Law School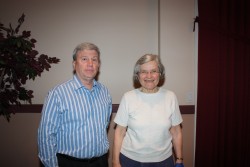 Douglas Hillman and Liga Briedis
40-Year Anniversaries

Liga Briedis, associate professor of librarianship and coordinator of reference services for Cowles Library
Douglas Hillman, Professor of Accounting / Aliber Distinguished Professor, College of Business and Public Administration
Joseph Schneider, Ellis and Nelle Levitt Professor of Sociology, College of Arts and Sciences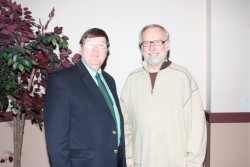 Gary Wade and Robert Hunter
Retirees

Julian Archer, professor of history in the College of Arts and Sciences
Dennis Conroy, senior systems administrator for Computer and Network Services
Sharon Culp, facility maintainer for Facility Services
Jack Gerlovich, the Ellis and Nelle Levitt Distinguished professor of education in the School of Education
Gerry Hingst, program assistant in the Athletics Department
Robert Hunter, professor of law, in the Law School
Janet Keefer, associate professor of journalism in the School of Journalism and Mass Communication
Dean Propp, duty engineer for Facility Services
James Romig, Iola E. Allbee Distinguished Professor of education in the School of Education
Gary Wade, associate professor of journalism in the School of Journalism and Mass Communications