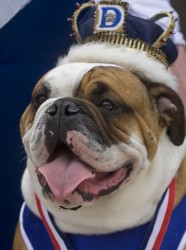 Meatball looks at home on his throne.
Last month marked the 101st running of the Drake Relays, which continued its history of astounding athletics at Drake stadium while bringing longstanding Relays elements to the larger community.
Drake celebrated a new reigning Beautiful Bulldog, Meatball; more than 1,600 runners of all ages and abilities turning out for the inaugural Grand Blue Mile; and an astounding 18 track and field records set.
All Drake Relays event results are available online.
King Meatball takes the throne as official Relays mascot
Ryan and Kati Anderson of Des Moines considered themselves lucky to get their bulldog named Meatball entered in Drake University's Beautiful Bulldog Contest. The annual competition reached its capacity of 50 contestants in the first 22 hours of registration. View photos of more of the contestants in an online gallery.
The Andersons said they never expected their year-and-half-old bulldog to win the contest as a rookie attempting to become the official mascot of the Drake Relays.
"We're shocked and really excited that he won," Ryan Anderson said after Meatball donned his crown and cape and sat down on his throne to accept accolades and gifts.
Des Moines Mayor Frank Cownie presented Meatball with a key to the city. Other prizes included a bouquet of flowers from Boesen the Florist and a Three Dog Bakery cake, which Meatball licked repeatedly.
Meatball also seemed to delight in giving kisses to well-wishers who surrounded the throne, which was built by Drake pharmacy professor Chuck Phillips. In fact, the Andersons brought a sign to the contest with the warning: "Beware of licking."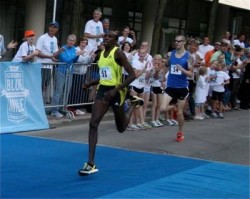 Boaz Lalang
Inaugural Grand Blue Mile holds second-fastest outdoor mile in world
The 101st running of the Drake Relays got off to a sterling start as Kenya's Boaz Lalang posted the second-fastest outdoor mile time in the world, running a personal best of 3 minutes 54.33 seconds to win the inaugural Grand Blue Mile.
More than 1,600 participants, in six different divisions, ran the mile course in downtown Des Moines with the temperature at 72 degrees for the first race.
"I knew this mile would be good for me," said Lalang, who advanced to the semifinal round in the 800 in the 2008 Olympics. "I was feeling great in the last 200 (meters) and knew I was going to win but I didn't know it was going to be fast like that.
"Going in, I just wanted to break four minutes," added Lalang, who trains with two-time Olympic medalist Bernard Lagat in Tucson, Ariz.
Both Lalang and Lagat also ran in the men's invitational mile as part of the Drake Relays at Drake Stadium.
Peter van der Westhuizen of South Africa was third followed by Alex McClary, while Rob Meyers was fifth and Ben Rosario sixth.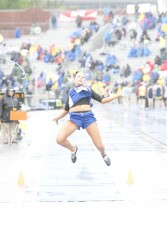 America's Athletic Classic sets new world records
The three-day track and field festival witnessed four world-leading marks among a whopping 18 records set:

Boaz Lalang, from Kenya, recorded the top fastest mile time in the world this spring in 3:56.14
Two-time Olympian Chaunte' Lowe posted the world's top outdoor mark in the women's high jump at 6 feet 5 inches
Javier Culson from Puerto Rico posted the second fastest outdoor
time in the world in the men's invitational 400 hurdles in 48.67
Lashauntea Moore set a Drake Relays record en route to running
the fastest women's time in the world this year in the 100-meter dash
of 11.13 seconds
In addition, Damu Cherry, who finished fourth in the 2008 Olympics,
tied a world leading mark in the women's 100 hurdles of 12.65.
The 2010 Relays also saw new meet records in four events:

Three-time German Olympian Nadine Kleinert set a meet record in the women's shot put with a throw of 61-3
Becky Briesch captured the invitational women's discus in both a meet and Drake Stadium mark of 211-3
The Minnesota women set a meet record in the 4×1600 relay in 18:58.82
West Des Moines Dowling Catholic senior Katie Flood ran the
anchor leg on the winning 4×800 relay, which set a meet record of
9:11.01