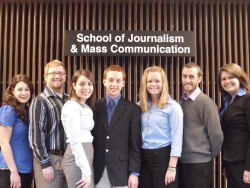 Icom team from left to right: Kara Leabhart, Jeremy Anderberg, Lindsay Paulson, Max Maher, Erin Febel, Sean Dickinson and Joanna Wagner.
CONTACT: Tory Olson, 515-271-1834, tory.olson@drake.edu
Seniors at Drake University will present public relations campaigns to high-ranking education communications specialists from across the state of Iowa on Wednesday, April 28.
The event, which is free and open to the public, will begin at 10 a.m. in the Bulldog Theater in Olmsted Center, 2875 University Ave.
Presentations will focus on the implementation of the new Iowa Core initiative that aims to improve literacy, mathematics, science, social studies and 21st century skills at schools.
The presentations culminate the capstone for 23 Drake senior public relations majors. The students have spent the entire academic year conducting research, brainstorming strategies and tactics, and developing collateral materials for Iowa's Area Education Agencies (AEA).
Every year, public relations seniors work with a client to create a media campaign. This year's client is the Iowa AEAs, which are working on raising positive awareness and ensuring a smooth transition from local to state education standards.
"More than seven months of work have gone into generating a campaign for the client," said Max Maher of New Brighton, Minn., account executive of Icom one of three agencies presenting. "We have conducted focus groups, hundreds of surveys, in-depth interviews, and have used that information to create a nearly 200-page public relations plan."
"Iowa has consistently been a leader in education across the country and throughout the world," said Joanna Wagner Woodridge, Ill., book editor of Icom. "This is a major piece of education reform designed to ensure Iowa stays at the top and that its students remain competitive globally."
Fourteen communications officials from the AEAs, the Iowa Department of Education, and the Wallace Foundation will attend the presentation and receive hard copies of the public relations plans:

Diane Baumgartner, communications specialist, Keystone AEA, Elkader
Nancy Brown, communications specialist/board secretary, Great Prairie AEA, Ottumwa
Courtney Croatt, communications specialist, Heartland AEA, Johnston
Liz Determan, communications coordinator, Northwest AEA, Sioux City
Troyce Fisher, director, Wallace Foundation
George Held, communications supervisor, Grant Wood AEA, Cedar Rapids
Valerie Taylor Hill, public information specialist, Grant Wood AEA, Cedar Rapids
Connie Johnson, director of Marketing & Communication, Prairie Lakes AEA, Pochahontas
Phil Roeder, specialist assistant to the director's office, Iowa Department of Education
Dave Sparks, communications consultant, Wallace Foundation
Claire Spellman, communications assistant, Heartland AEA, Johnston
Beth Strike, communications specialist, AEA 267, Clear Lake
Elaine Watkins-Miller, communications consultant, Iowa Department of Education
Jennifer Woodley, communication specialist, Great Prairie AEA, Ottumwa
For more information, contact Max Maher at 651-587-6933 or max.maher@drake.edu.