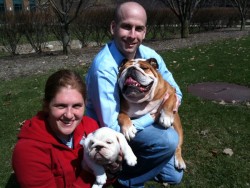 Erin and Kevin Bell with reigning Relays mascot Porterhouse and their new bulldog puppy, Mr. Magoo.
MEDIA CONTACTS: Dolph Pulliam, 515-271-3084; Lisa Lacher, 515-271-3119, lisa.lacher@drake.edu
Drake University's annual Beautiful Bulldog Contest, set for Monday, April 19, will have 50 contestants vying to become the official mascot for the 101st running of the Drake Relays on April 22-24.
The 50 contestant spots were filled in just 22 hours — an all-time record — with 49 hopefuls consigned to the wait list.
"The competition has never filled up this quickly," said Dolph Pulliam, Drake's director of community outreach and development. "Last year, we reached the maximum of 50 bulldogs seven days after opening the entry process. This year, we hit our top capacity in less than a single day."
Now in its 31st year, the Beautiful Bulldog Contest will begin at 10:45 a.m. in Nollen Plaza, Third and Locust streets in downtown Des Moines. The contest, which is free and open to the public, will begin with judging from 10:45 a.m. to noon, and the pageant will follow from noon to 1 p.m.
This year's contestants come from across Iowa, as well as Illinois, Kansas, Minnesota and South Carolina.
They will be judged by a panel of local celebrities:

Drake graduate Renee Hardman, senior vice president of human resources at Bankers Trust Co., event corporate sponsor
Julie Stewart, director of community relations at Prairie Meadows Race Track and Casino, event corporate sponsor
Drake graduate Stephanie Angleson, ABC5-TV anchor
Caitlin Coyner, KCCI-TV anchor
Drake graduate Andy Fales, WHO-TV staff writer and co-host of "SoundOff"
Relays Host Anil Alimohd and Relays Hostess Molly Lundberg
Drake Athletic Director Sandy Hatfield Clubb
Rules of the competition state that all competitors must be real, living, drooling English bulldogs. Costumes are encouraged in order to catch the judges' attention.
The winning bulldog will receive a key to the city of Des Moines and the mascot's royal cape and crown. The winner also will make numerous public appearances during Relays events.
Bankers Trust Co. and Prairie Meadows Race Track and Casino and Drake University are sponsoring this year's Beautiful Bulldog Contest.
In the event of rain or bad weather, the competition will be held in the Drake Fieldhouse, 2701 Forest Ave.
For more information about the contest, contact Jeannie Nielsen at jeannie.nielsen@drake.edu or 515-271-2389.