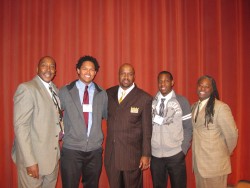 From left to right: Sentwali Bakari, Charles Davis, Dr. Tyrone Bledsoe, Mario Sinclair and
Eric Johnson
CONTACT: Tory Olson, 515-271-1834, tory.olson@drake.edu
A group of Drake University students and employees attended the recent National Student African American Brotherhood Conference (SAAB).
The SAAB focuses on increasing the number of African American and Latino men who graduate from college. SAAB operates through student run chapters at colleges and universities to help young men excel academically, socially, culturally, spiritually and in the community.
The Drake participants were:

Sentwali Bakari, dean of students
Charles Davis, a junior biochemistry, cell and molecular biology major from Selena, Texas
Eric Johnson, assistant professor of education
Mario Sinclair, a first-year law, politics and society major from Milwaukee, Wis.
Davis and Sinclair are two of 10 members in Drake's new Brother to Brother program, a male leadership project developed by the Dean of Students Office.
The Brother to Brother initiative targets minority male Drake students to help them develop characteristics of manhood, academic success, service learning, financial literacy and multicultural competence. It also challenges participants to demonstrate leadership, teamwork, emotional intelligence, integrity, campus involvement and community service.
The program has received a $5,000 grant from Prairie Meadows Racetrack and Casino grant. The Prairie Meadows Community Betterment Grants are awarded to projects in one of four categories: arts and culture, economic development, education and human services.
Drake received the grant because of the partnership with Des Moines area schools. The Drake group also attended the conference with members from the Des Moines schools. The Drake students involved will serve as mentors to minority males in the Des Moines school district. Bakari and Johnson have worked with Terrance Martin, superintendent of the district, to start Brother to Brother chapters at Des Moines Hoover, Lincoln and North high schools.
The March 26 event, hosted by the SAAB chapter at Indiana University-Purdue University Indianapolis, featured three keynote speakers:

Tyrone Bledsoe, founder and executive director of SAAB
Kirk Nugent, motivational speaker, author and trainer
Willis K. Bright Jr., director of youth programs and education, Lilly Endowment
For more information on the conference, visit the SAAB Web site.