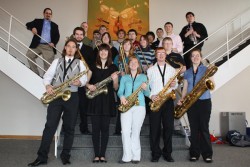 Members of Drake's Jazz Ensemble II pose for a photo earlier this year.
CONTACT: Tory Olson, 515-271-1834, tory.olson@drake.edu
Drake University Jazz Ensemble II, directed by James Romain, associate professor of saxophone and assistant director of jazz studies, will perform on Friday, April 16.
The free, public recital will begin at 8 p.m. in the Performing Arts Hall in Harmon Fine Arts Center, 2505 Carpenter Ave.
An active chamber musician, Romain is the current baritone saxophonist with the Oasis Quartet. He also has performed as an orchestral saxophonist with numerous ensembles, including the Minnesota Orchestra, Wyoming Symphony, University of Iowa orchestras and the Des Moines Symphony Orchestra.
Romain holds degrees from the University of North Texas and was the first saxophonist to be awarded the Doctorate of Musical Arts in Performance and Literature from the University of Illinois at Urbana-Champaign.
For more information, contact Drake's Department of Music at 515-271-3975, or visit https://wwww.drake.edu/artsci/Music_Dept/index.html.