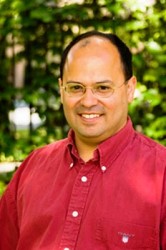 Francisco Aragón
CONTACT: Jennifer Perrine, 515-271-4161, jennifer.perrine@drake.edu
Bilingual poet, editor and translator Francisco Aragón will read selections of his poetry as part of Drake University's Writers and Critics Series on Thursday, April 15.
The event will take place at 7:30 p.m. in the Cowles Library Reading Room, 2725 University Ave.
Aragón is the author of "Puerta del Sol" and editor of "The Wind Shifts: New Latino Poetry." His poems and translations have appeared in various anthologies, including "Inventions of Farewell: A Book of Elegies," "American Diaspora: Poetry of Displacement" and "Evensong: Contemporary American Poets on Spirituality."
The founding editor of Momotombo Press, Aragón is director of Letras Latinas, the literary program of the Institute for Latino Studies at the University of Notre Dame. He also is a board member of the Guild Literary Complex in Chicago and a member of the Macando Writer's Workshop in San Antonio.
The Writers and Critics Series, which is sponsored by Drake's English Department and its Center for the Humanities, will continue through the spring.
The next event in the series will feature Andrew Porter, the winner of Drake's Emerging Writer Award in Short Fiction, on Tuesday, April 27. It will begin at 7:30 p.m. in the Cowles Library Reading Room.
View a complete list of upcoming events in the series online.
For more information, contact Jennifer Perrine at 515-271-4161 or jennifer.perrine@drake.edu.