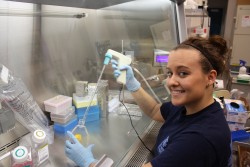 Michelle Stammet prepares cells for collection.
CONTACT: Tory Olson, 515-271-1834, tory.olson@drake.edu
Research on the impact of a drug delivery system with a chemical found in red wine on cancer cells will be one of nearly 50 projects by Drake University students and faculty at the seventh annual Drake University Conference on Undergraduate Research in the Sciences.
The free, public conference on Thursday, April 15, will feature a multitude of research posters and oral presentations by Drake students. They will display their work from 9 a.m. to 4 p.m. in Parents Hall in Olmsted Center, 2875 University Ave.
The Drake conference also will feature research from programs in biology, biochemistry, cell and molecular biology, chemistry, computer science and mathematics, environmental science and policy, neuroscience, pharmaceutical science, physics and psychology.
For more information about the conference and poster sessions, which are sponsored by Embria Health Sciences and Pioneer Hi-Bred International, contact Maria Bohorquez at 515-271-2595 or maria.bohorquez@drake.edu.


Research explores cancer drug delivery method based on 'French Paradox'
Drake senior Michelle Stammet, a pharmaceutical sciences major from Elburn, Ill., will present her work at the conference on research with Assistant Professor of Pharmaceutics Deepa Rao.
They studied the cytotoxicity of resveratrol, a chemical found in wines that has been linked to the "French Paradox."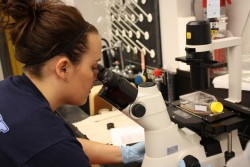 Michelle Stammet views the ovarian cancer cells under a microscope.
The paradox — the observation that the French have a lower incidence
of coronary heart disease in spite of a high intake of saturated fats
— has been correlated with the frequent consumption of red wine in
French culture. However, in addition to protecting heart cells, the
resveratrol in the wine also has been linked to cancer prevention.
Individuals who consume red wine with most meals take in a regular
dose of resveratrol. Rather than administer frequent doses or megadoses
of the chemical, Stammet and Rao tested the potency of delivering
resveratrol that was prepared using micelles, protective structures
that keep the drug in the body for a longer period of time.
They performed cytotoxicity studies on human ovarian cancer cells
with both resveratrol micelles and resvertrol alone. The results
suggested that the chemical's potency was relatively equitable among
all dosings, regardless of the protective micelle structure.
"The long term goal of our lab is to administer resveratrol with an
anticancer agent, doxorubicin, to see if it improves the potency of the
doxorubicin while also protecting the heart cells from the
doxorubicin's harmful effects, which limit its use in patients."
"We are extremely excited with our preliminary results, as they
show that we can maintain resveratrol's cytotoxicity, and we are
gearing up to test these systems with doxorubicin in ovarian cancer and
heart cells," she added.
The project, which Stammet worked on as part of her senior
capstone, originated as part of Rao's doctoral dissertation at the
University of Wisconsin—Madison, but was not published until she came
to Drake.
"Conducting research beside Dr. Rao in the lab has greatly
developed my critical thinking abilities and problem solving skills,"
Stammet said. "Drake's exceptional research programs provide students
with unique opportunities for personal growth as well as professional
development."
Rao is presenting their research at the European Symposium on Controlled Drug Delivery in the Netherlands April 7-9.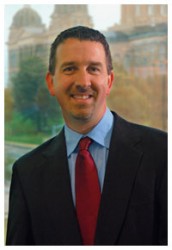 Richard Leopold
Kemin Industries, Inc. to hold luncheon at conference
In conjunction with the conference, Kemin Industries, Inc. is sponsoring a special luncheon for the students, faculty and invited guests. The luncheon will feature keynote speaker Richard Leopold, executive director of the Iowa Department of Natural Resources.
Prior to joining the DNR in 2007, he was executive director of the Iowa Environmental Council since 2003. He has held a variety of biologist, naturalist and administrative positions within the U.S. Forest Service, the National Park Service and served as the coordinator for IOWATER, Iowa's statewide volunteer water-quality monitoring program.
Leopold has been the past chairperson of the Iowa Conservation Education Council, a recipient of the Izaak Walton League of America's "National Honor Roll Award" in 2001, and the Council of State Governments recently recognized him as a Henry Toll Fellow.
Founded in 1961, Kemin group of companies (www.kemin.com) provides health and nutritional solutions to the agrifoods, food
ingredients, pet food, human health and pharmaceutical industries.
Kemin operates in more than 60 countries with manufacturing facilities
in Belgium, Brazil, China, India, Singapore, South Africa, Thailand and
the United States.