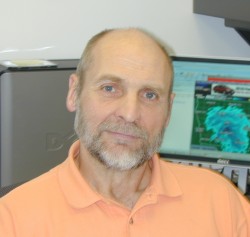 Thomas Rosburg
The Iowa Academy of Sciences has elected Drake University faculty member Thomas Rosburg as incoming president-elect.
Rosburg is associate professor and chair of biology as well as director of the Environmental Science and Policy program. He will officially assume his office on Friday, April 16, at the President's Banquet during the IAS Annual Meeting at Graceland University in Lamoni, Iowa.
Rosburg will serve IAS for three years, assuming the presidency for the 2011–12 term and the following year serving as past-president.
"Tom is an outstanding, renowned Iowa scientist," said IAS President Lyn Le Countryman, a professor of teaching, biology and science education at the University of Northern Iowa. "We are honored to have him take the reins of the largest association of scientists, researchers and educators focused on science in the state. Its members have transformed our worldview, protected Iowa's heritage and fostered generations of eager science researchers."
Since joining the Drake faculty in 1996, Rosburg has received research funding from 25 different sources amounting to more than $780,000. These funds represent 46 different research projects (grants) and have resulted in authorship of more than 50 scientific reports, 26 conference presentations, 11 manuscripts and a book.



As president of IAS, Rosburg will lead the 10 sections of the academy, which involve scientists focused on areas such as ecology, engineering, geology, physics and space sciences. He will also be involved with the organization's science and teaching conferences, speakers' series and other key projects.
The Iowa Academy of Science is a nonprofit organization established to further scientific research and its dissemination, education in the sciences, public understanding of science, and recognition of excellence in these endeavors. The Academy has been promoting science throughout Iowa since its establishment in 1875.
The only other Drake faculty member to serve as president of the IAS was James Christiansen, professor emeritus of biology. He held the post in 1998-99.
Rosburg is also director of the Drake BioDiversity Center and curator of plants at the Drake University Herbarium, He serves as Drake's coordinator for the Iowa Lakeside Laboratory, a field station of Iowa's state universities. He teaches courses in ecology, plant biology, field botany, ornithology, biological research and natural history photography.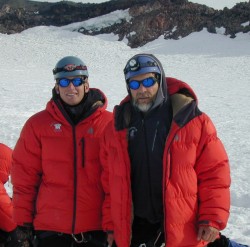 Tyler and Thomas Rosburg during their climb of Mount Rainier.
Outside of work, Rosburg enjoys the more adventurous side of nature. Last
summer he and his son, Tyler, successfully climbed Mount Rainier in
Washington, a stratovolcano and one of the more difficult peaks to
climb in the United States.
They plan to make additional climbs this summer, including Gannett
Peak in the Wind River Mountains of Wyoming and Borah Peak in Idaho.
Rosburg's research encompasses many areas within plant ecology,
particularly prairie and grassland ecology and avian ecology. He holds
a bachelor's degree in fish and wildlife biology, a master's degree in
plant ecology and a Ph.D. in ecology and evolutionary biology, all from
Iowa State University.
He is a renowned photographer and his photographs of grassland
wildflowers are featured in "Wildflowers of the Tallgrass Prairie," a
field companion for exploring grassland plants published by the
University of Iowa Press.