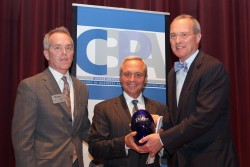 Left to right: Scott Johnson, Steve Lacy and Charlie Edwards.
CONTACT: Tory Olson, 515-271-1834, tory.olson@drake.edu
Drake University recently honored Steve Lacy, chairman, president and CEO of Meredith Corp., with the Community Leadership Award for his impact on the University and Des Moines business community.
Charlie Edwards, dean of Drake's College of Business and Public Administration, presented the award to Lacy at the college's annual awards ceremony on Wednesday, April 7, in Sheslow Auditorium.
The Community Leadership Award is designed to recognize an individual who has made an impact on the community through their business and individual generosity. The individual must have a record of impact to the community through their personal philanthropy and volunteer service and be affiliated with a business that has made a significant contribution to Des Moines.
"Steve Lacy and Meredith Corp. have had a tremendous positive impact on the Des Moines area and Drake University," Edwards said. "We're especially grateful for Steve's efforts to raise funds on behalf of the University. We're also fortunate that his wife, Cathy, recently joined the Drake Board of Trustees."
"Steve is a leader who acts, who motivates and who gives back to our community — a true community leader," said Drake alumnus Scott Johnson, regional president of Wells Fargo Bank in Iowa and Illinois, who helped present the award.
Among the words Johnson collected from business leaders and Drake Board of Trustees members to describe Lacy were: committed, confident, driven, intense, responsible, creative, organized and caring.
"Steve's commitment to this community and to our Drake University community is because he cares," added Johnson, who serves on Drake's Board of Trustees and the CBPA National Advisory Council.
Advice from a community leader
During the award ceremony Lacy shared his "Thoughts About Effective Leadership" with the packed crowd of business students.
"The most valuable thing you can do is to work on getting valuable business experience to marry with your education at Drake," Lacy said.
Among the advice he gave students, Lacy shared three strategies on becoming successful:

Demonstrate knowledge and love for the product or service being delivered
Have a strong desire and confidence to sell the product or service
Bring together a team around a shared common vision
He also talked about the importance of giving back to the community through fundraising and serving on boards of directors. "All organizations need our help, and I recommend getting involved at a young age and finding a way to stretch a little."


Commitment to the community, Drake partnership
Lacy, who became chairman of Meredith in January, heads one of the nation's leading media and marketing companies. He joined Meredith in 1998 as vice president and chief financial officer. He was promoted to president of the Meredith Publishing Group in 2000 and became Meredith's president and chief operating officer in 2004.
Drake students have benefited greatly from staunch support from both the Meredith family and Meredith Corp. over the years, especially in the School of Journalism and Mass Communication.
The company's apprenticeship program provides outstanding students with professional work experience their junior year and often turns into internships their senior year. This program also partially supports a second faculty position in the magazine sequence.
Meredith has invested in technology throughout the school, including upgrading computer labs and supporting the multimedia lab in Meredith 104, which is used for senior capstone projects.
The E.T. Meredith Center for Magazine Studies provides a resource room for research and helps students publish 515 and Think magazines. The center also established the E.T. Meredith Distinguished Professorship, which was first awarded to Patricia Prijatel.
Meredith publications serve 85 million Americans each month, while its television stations reach 10 percent of all U.S. households on a daily basis. Meredith's major media brands include Better Homes and Gardens, Ladies' Home Journal, Family Circle, Parents and Fitness magazines. The company also has local television stations in eight Top 35 markets.
In addition to his work for Meredith, Lacy is active as a leader in numerous community groups. He is chair-elect of United Way of Central Iowa's 2011 campaign and last year he chaired the Greater Des Moines Partnership Board.
He also has served in leadership roles with the American Red Cross, Junior Achievement, Big Brothers Big Sisters, Easter Seals and Dowling Catholic High School Foundation.
A certified public accountant and certified employee benefits specialist, Lacy holds a bachelor's degree in accounting and an MBA from Kansas State University.