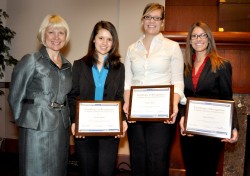 From left: Wendy Waugaman congratulates Leslie Sabick, Carley Stieg and Lauren Ford on CPBA leadership awards.
Drake business majors recently got an insider's look into the professional business world through interactions with Des Moines community and business leaders during Drake's second annual Women's Leadership Breakfast.
"It was a fantastic opportunity to network, get great advice and learn from women with experience in the fields we wish to pursue in the future," said Nanllel Rashidzadeh, a junior accounting and finance major from Queretaro, Mexico.
More than 70 female students, faculty and staff in Drake's College of Business and Public Administration joined 21 businesswomen and community leaders for a breakfast, sponsored by Wells Fargo Home Mortgage. The event was held in Drake's Levitt Hall in Old Main and featured special guest Cara Heiden, co-president of Wells Fargo Home Mortgage. She was recognized for her professionalism, leadership abilities and dedication to the community.
"I really enjoyed the conversations at the breakfast because there were so many different perspectives and opinions," said Lauren Ford, a junior actuarial science and accounting major from Kansas City, Kan. "Drake values students' personal and professional development so much, and it was nice to attend an event that was centered around those goals."
Ford was one of four female winners of the CBPA Leadership Awards who were recognized at the breakfast. The awards go to business students who have demonstrated outstanding leadership skills through on-campus activities and off-campus community service while maintaining a grade point average of at least 3.0.
In addition to Ford, the other award winners were:

Leslie Sabick, a first-year entrepreneurship and accounting major from Bloomington, Ill.
Carley Stieg, a sophomore marketing and management major from Maple Grove, Minn.
Elena Vukmir, a senior finance and management from Wauwatosa, Wis.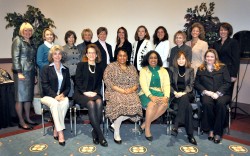 A group of community members gathers for a photo during the breakfast.
In addition to having one-on-one conversations with local business
leaders, students listened to a keynote address on "The New Face of
Leadership" by Wendy Waugaman, CEO and president of American Equity
Investment Life Holding Co.
"This event serves as a valuable opportunity for aspiring female
business students to network with female community leaders," said
Annette Watson, the college's career service manager. "Wendy Waugaman
provided sound advice and motivation to all those attending."
Waugaman was appointed to her current position as CEO and president in
January 2009. At that time, she was the first woman to be named CEO of
an Iowa-based insurance company.
"The keynote given by Wendy Waugaman was a very interesting story of
how she came to her current position," said Amanda R. Sykora, a junior
accounting and management major from Minnetonka, Minn. "As a Drake
business student, I very much appreciated the opportunity to network
with these successful women. I am excited to attend the breakfast next
spring."
Waugaman earned a bachelor's degree in accounting and computer
information systems from Drake in 1982. She graduated from Notre Dame
Law School in 1985.



She was a partner in the Whitfield & Eddy law firm in Des Moines
from 1985 to June 1999. Waugaman served as outside corporate counsel
for American Equity Investment Life Holding Co. from 1995 to 1999; she
then joined the company, and has served as both chief financial officer
and general counsel.