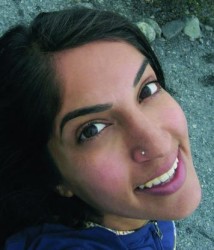 Suzi Yoonessi will participate in a question-and-answer session following the screening.
CONTACT: Tory Olson, 515-271-1834, tory.olson@drake.edu
Drake University will host a screening of the independent award-winning film, "Dear Lemon Lima," and a question-and-answer session with the film's director, Suzi Yoonessi, on Saturday, April 10.
The screening, which is free and open to the public, will be held at 1:30 p.m. in Bulldog Theater in Olmsted Center, 2875 University Ave., followed by a question-and-answer session.
The family-friendly film, which has played at more than 80 international film festivals, focuses on a Yu'pik (Native Eskimo) girl's first love and her challenges as she enters a prep school in Alaska. As she comes to terms with her Native American identity and embraces her differences, she inspires her misfit group of friends to do the same as they go on to win a school competition.
"Critics have said the feminist/multi-cultural inflected film is a more poignant Napoleon Dynamite," said Dina Smith, Drake assistant professor of English.
The film has won numerous awards, including:

Outstanding Performance at the Los Angeles Film Festival
Audience Award for Best Feature at the Woodstock Film Festival
Official selection for the British Film Institute's 53rd Film Festival
Sao Paolo Film Festival finalist
Official selection for the Rome International Film Festival
Yoonessi received her BFA from San Franciso Art Institute and her MFA from Columbia University where she recently received the Film Manufacturers, Inc., Directing Fellowship.
The screening, which is held in collaboration with Grinnell College's 20th anniversary celebration of their Women's Studies program, is sponsored by Grinnell's Cultural Films Committee and Drake University's Center for the Humanities.
For more information, contact Dina Smith, Drake University assistant professor of film studies, at dina.smith@drake.edu.