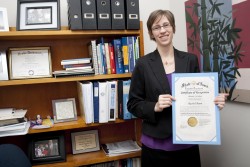 Rachel Boon displays the certificate.
Rachel Boon, director of institutional research and academic compliance at Drake University, recently received a certificate of recognition for her contribution to higher education from Iowa Gov. Chester Culver.
Boon received the award for her help in planning the Iowa Higher Education Research conferences held by the Iowa College Student Aid Commission. She has worked with Drake alumnus Keith Greiner, research director for the commission, for more than two years.
The certificate was given to recognize Boon as a valuable, effective role model for higher education leadership in Iowa and an integral part of the success of the annual conference.
She has helped identify speakers and logistics for the conferences, including the 2008 event that was hosted at Drake. She also has participated in conference day activities each year.
The annual Iowa Higher Education Research Conference brings together higher education officials, policy-makers and researchers from across the state to keep them informed on the latest trends impacting higher education access, enrollment and success.