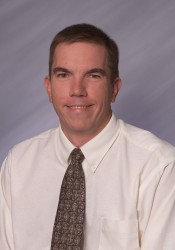 Mark Vitha
Mark Vitha, associate professor of chemistry at Drake University, has been selected to be the next editor of Willey-Interscience's "Chemical Analysis Series."
The series is a collection of monographs on analytic chemistry and its applications. Monographs focus on analytical techniques, developments in analytical and bioanalytical chemistry, emerging technologies and applications of analytical instrumentation methodologies.
"This area of chemistry focuses on the development and application of instruments for making chemical measurements," said Vitha. "This is where I first did research, so undergraduate research is very important to me."
The series evaluates the development, breadth and depth of analytic chemistry, with nearly 200 published books including, "Quadrupole Ion Trap Mass Spectrometry" and "Modern Analytic Methods in Art and Archeology."
These titles reflect the dual focus on analytical techniques and specific applications of analytical methodologies the series promotes. The goal of the series is to provide resources that facilitate the efforts of those engaged in solving analytical problems.
Vitha's primary duty is to invite researchers to write or edit books related to chemical analysis for the series. He will also help researchers work through the proposal, writing, review and final publication's process.
He is interested in research for students and the analysis of arsenic and pollutants in the environment, analytical chemistry, education, bioanalytical chemistry and the development of high-speed analysis systems. He is currently doing research with students to help guide the selection of techniques for separating complex mixtures, and another that is studying the absorbance of light by dyes.
While his current research is not yet ready for publication as a book, he does have other articles that will be published later this year. Vitha currently has two chapters that will be included in a book titled, "Analytical Chemistry at the Interface," to be published as a volume in the American Chemical Society Symposium Series.
Vitha holds a bachelor's degree in chemistry from the University of St. Thomas and a Ph.D. in analytical chemistry from the University of Minnesota. He joined the Drake faculty in 1998 and has received numerous research grants from organizations such as the National Science Foundation.