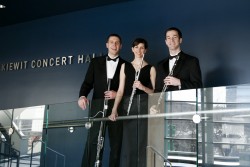 Trio members Adam Trussel, Leslie Fagan and John Klinghammer.
The Orion Trio, comprised of three Omaha Symphony members, will perform a guest recital at Drake University on Friday, April 2.
The free, public performance will begin at 8 p.m. on the Jordan Stage in Sheslow Auditorium in Old Main, 2507 University Ave.
The concert will feature Leslie Fagan, flute; John Klinghammer, clarinet; and Adam Trussel, bassoon; in an exciting and upbeat woodwind ensemble.
Fagan is second flutist with the Omaha Symphony and has been a regular substitute for the Chicago Symphony Orchestra since 1999.
Klinghammer holds the position of second clarinet with the Omaha Symphony as well as principal clarinet with the Des Moines Symphony. He is adjunct faculty member at the College of St. Mary's and has been a member of the National Repertory Orchestra.
Trussel plays bassoon with the Omaha Symphony and has played in multiple symphonies around the country. He is on the faculties of both the University of Nebraska at Omaha and Creighton University.
For more information, call 515-271-3975, or visit the music department's Web page.