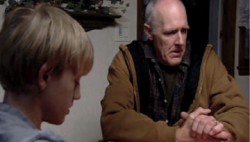 Filmmaker and actor Tom Geraty, right, plays Ray Dewey and Harvey Roberts, left, plays his son, Nathan Dewey.
CONTACT: Tory Olson, 515-271-1834, tory.olson@drake.edu
Drake University alumnus Tom Geraty, director of Big Field Productions, led a collaborative team of Drake alumni and faculty to produce a film entitled "Ash," which will debut in Des Moines on Thursday, April 8.
The film, which was shot in 18 days around the Des Moines area last spring, will have its first screening at 7 p.m. at the Fleur Cinema and Café, 4545 Fleur Drive. Cost for admission is $10.
The two-hour feature production will be followed by a question-and-answer session with Geraty, who graduated from Drake in 1984.
"Ash" is the story of Dan McBurney, an ex-cop, devoted husband and father of two young boys who turns vigilante when he discovers that a recent child-abductor lives across the street from his storage facility.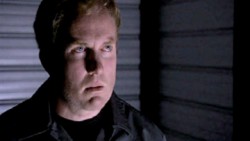 Drake graduate Kevin Kelly plays Donald Sandeman, the child-abductor next door.
Dan's world begins to unravel as he risks losing what he loves most in
order to redeem his lost childhood, innocence and brother.
The film is a product of efforts by Drake alumni and faculty
members, led by Geraty, who wrote, directed, produced and acted in the
project. Fellow Drake alumni and faculty contributed to the project in
the following roles:

John Burney, Drake vice provost for academic affairs, plays Al
Patrick Kelly, who graduated with a Bachelor of Fine Arts in Theatre in 1986, served as director of photography
Kevin R. Kelly, who graduated in 1990 with a Bachelor of Fine Arts in Theatre, plays Donald Sandeman
Stephanie Brown, former Drake student, plays Lori McBurney
William S.E. "Doc" Coleman, Drake professor emeritus of theatre arts, also consulted on the project.
"I could go on and on about 'Doc' Coleman," said Geraty, who holds
a bachelor's degree in health and physical education from Drake.
"When I talk about a mentor, a teacher, an inspiration and someone
who has always been there to encourage me, I'm talking about him," he
added. "So when I had a first draft of a screenplay and needed to share
it with someone who would give me honest and valid feedback — Doc was
the man."
Geraty also plays the role of Ray Dewey and his sons Seamus, 11, and Graham, 9, star as the main character's children.
A former member of the executive committee of Friends of Drake
Arts, Geraty has acted in numerous plays in Chicago and Des Moines and
collaborated on three Drake productions:

Co-directed the staged reading of "Inherit the Wind" in February 2010
Co-directed and starred in the live radio broadcast of "It's a Wonderful Life" in 2007
Co-starred in "The Compleat Works of William Shakespeare (Abridged)" in 2006
Big Field Productions was established in April of 2009 to
facilitate the making and distribution of "Ash," and will continue to
work on future projects.
For more information, contact Tom Geraty at director@bigfieldproductions.com.