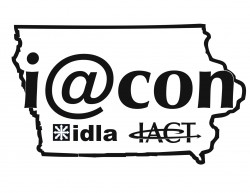 On April 16, 2010, the annual Iowa Connections Conference, IACON 2010, will be held at Adventureland Inn in Altoona, IA. This conference focuses on both distance education and instructional technology and has the theme of "From Possibilities to Realities".
The conference is sponsored by two organizations, the Iowa Distance Learning Association and the Iowa Association for Communication Technology. Drake has strong connections to the Iowa Distance Learning Association, as Dean Jan McMahill was one of the founders of this organization, Jean Cross is the current President-elect, and Diane Spahr is the current secretary. Drake is also strongly connected to the Iowa Association of Communication Technology because Chuck Sengstock, Director of Extension Education, is the current Vice President.
If you would like additional information about this conference, if you are interested in joining one of the organizations, or if you would like to register, please visit www.idla.org or www.iact-iowa.org.