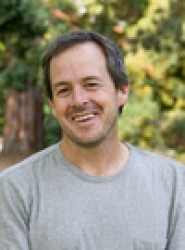 Tod Marshall
Poet Tod Marshall, associate professor of English at Gonzaga University, will give a reading as part of Drake University's Writers and Critics Series on Wednesday, March 31.
The event will take place at 7:30 p.m. in the Cowles Library Reading Room, 2725 University Ave.
In addition, Marshall will participate in a discussion with students, faculty and the public at 3:30 p.m. in room 212 of Howard Hall, 2515 University Ave.
In his presentation, Marshall will read poetry from his latest collection, "The Tangled Line," which was published in April 2009. Topics in his writings include myth, history, pop culture, aesthetics and family conflict.
"Dare Say," Marshall's first collection of poems, was the winner of the University of Georgia's Contemporary Poetry Series in 2002. Marshall's other publications include "Range of the Possible," a collection of interviews with twenty poets and "Range of Voices," an edited anthology of work by the interviewed poets.
Marshall holds a Master of Fine Arts degree from Eastern Washington University and a doctorate degree from the University of Kansas. He has received awards from Grants for Artist Projects and the Washington Artist Trust.
The Writers and Critics Series, which is sponsored by Drake's English Department and its Center for the Humanities, will continue through the spring.
The next event in the series will feature poet, translator and editor Francisco Aragón on Thursday, April 15. It will begin at 7:30 p.m. in the Cowles Library Reading Room.
A complete list of upcoming events in the series is available online.
For more information, contact Jennifer Perrine at 515-271-4161 or Jennifer.perrine@drake.edu.