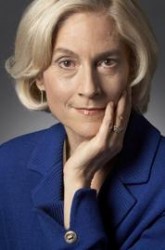 Martha C. Nussbaum
More than 20 Drake students and professors had the opportunity to engage in intellectual conversations with University of Chicago professor Martha C. Nussbaum before her lecture at the University on Monday, March 22.
Nussbaum, one of the nation's outstanding philosophers and public intellectuals, met with several groups of faculty and students who asked her questions about her numerous books, work and experiences.
In a discussion based on her book — "Liberty of Conscience" — Nussbaum argued that the central principle of the American tradition of religious freedom is the idea of equal respect.
"This is the principle that everyone, no matter what his or her religious commitments or lack thereof, has an equal right to hold and practice his most fundamental and meaningful views regardless of majority views to the contrary," said Dennis Goldford, professor of politics. The discussion took place in Goldford's Seminar on Constitutional Law: Religion Clause.
Goldford said Nussbaum "discussed a wide range of immensely difficult issues in regard to relationships between majority rule and religious freedom in America."
In another meeting with students and professors, Nussbaum shed light on her other books and some of her experiences in India.
"It was extremely gracious of Professor Nussbaum to take time out of an already very busy day to respond to student's questions about her work," said Drake Associate Professor of Philosophy Timothy Knepper, who attended the informal talk.
"The students who were present were well-prepared and asked insightful questions. Nussbaum then answered these questions not only with great clarity but also at some length," he added.
"It really meant a lot to me to hear a philosopher's perspective on the courts and the religion clauses of the Constitution," said Nicole Redman, a sophomore law, politics and society and psychology major from Dubuque, Iowa.
"Her insight gave me a better idea of the history and the court's approach to religious cases. She seriously evaluated how the courts decide the influence of religion in schools and in the public square."
Later that evening, Nussbaum gave a free, public lecture based on the issues she explored in her 2008 book, "Liberty of Conscience: In Defense of America's Tradition of Religious Equality."
Nussbaum cited specific examples in American history from Roger Williams' stance on toleration in colonial Rhode Island to recent legal cases on the line between church and state.
The examples helped paint a picture of her argument that defending the right of each individual to explore the ultimate meaning of life is a core value that the United States has come to protect.
Nussbaum noted that all modern nations face problems of religious toleration and respect. By examining the United States' constitutional tradition of religious free exercise and non-establishment, she argued that the core value in this tradition is that of equal respect for conscience, a value that militates against all governmentally created hierarchies or "in-groups."
In closing, Nussbaum challenged the audience to be open to an appreciation of the full importance of protecting the liberty of conscience in American culture.