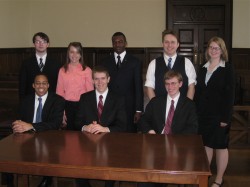 Team 1102. Front row: Kyair Butts, Chris Bartak, Greg Boal. Back row: Dakota Johansen, Sarah Francis, Donald Chikwani, Daniel VanSant, Valerie Whiting.
CONTACT: Tory Olson, 515-271-1834, tory.olson@drake.edu
In celebration of its successful 2009-10 season, Drake University's Undergraduate Mock Trial team will present this year's case for Drake students and faculty on Tuesday, April 27.
The team, which will hold the presentation at 7 p.m. in Parents Hall in Olmsted Center, 2875 University Ave., recently received honorable mention and individual awards at the Opening Round Championship Series (ORCS) in St. Louis.
Drake competed with 24 collegiate teams in the tournament, which was hosted by Washington University. Drake's team narrowly lost in a tiebreaker for sixth place against Rhodes College in Memphis, Tenn.
"It was tough to see that we were so close to qualifying for nationals, but we have to remember that competing at ORCS still places us in an elite category of mock trial competitors," said team co-captain Chris Bartak, a junior actuarial science and economics major from Long Pine, Neb.
This season has been especially successful, and the Drake team has received group and individual accolades at competitions throughout the United States, Bartak added.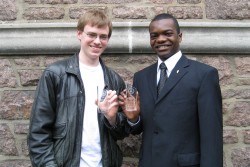 Greg Boal and Donald Chikwani.
"I'm proud of how well our team competed," said Greg Boal, sophomore journalism major from Urbandale, Iowa. "We hit solid competition, and with all of our team members returning next year, I know that we will be a very strong team."
In addition to the honorable mention title, Drake's team secured two individual awards; Boal received one of only eleven outstanding attorney awards, and Donald Chikwani, a first-year economics major from Harare, Zimbabwe, was recognized as an outstanding witness.
"The outstanding witness award serves as recognition for hard work," Chikwani said. "It's indeed a great feeling to be acknowledged."
The ORCS tournament is sponsored by the American Mock Trial Association (AMTA) as a qualifier for the national AMTA

mock trial competition.
AMTA was founded in 1985 by former dean of Drake Law School from 1980-1988 Richard Calkins. Through intercollegiate mock trial competition, the association engages students in trial simulations and encourages the development of critical thinking, public speaking skills and knowledge of legal practices and procedures.