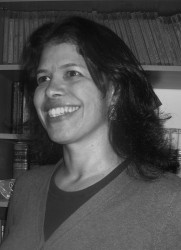 Ines Rojas
Venezuelan political scientist Ines Rojas, who gave a lecture at Drake Monday evening, will give a second lecture in Des Moines on Tuesday, March 30.
The second lecture, which is free and open to the public, will focus
on "Afro-Venezuelan Women: Confronting the Triple Discrimination of
Race, Class and Gender."
It will start at noon at the Central Des Moines Public Library, 1000 Grand Ave.
Her lecture at Drake was titled "Feminist Organizing and the Status of Women in Bolivarian Venezuela."
Rojas, who teaches courses on international organizations and human rights, serves as an associate professor in the School of Modern Languages at the University of the Andes in Merida, Venezuela.
Both lectures are sponsored by the Drake University Center for Global Citizenship, the Drake University Center for the Humanities and the Iowa Council for International Understanding.
The Center for Global Citizenship educates students to function effectively in different cultural contexts, and to see their own culture from the perspective of others. The center also works to ensure that global perspectives and issues are an integral part of the intellectual and cultural experience of all members of the Drake community.
For more information and a list of upcoming events, visit the Drake Center for Global Citizenship's Spring 2010 schedule or call 515-271-2117.