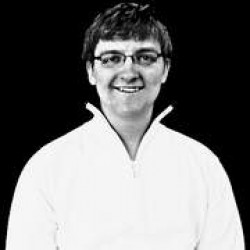 Alex Masica
Drake University sophomore Alex Masica is raising money to increase awareness of mental disabilities as he prepares to embark on the 3,900-mile Push America Journey of Hope.
Masica, of Reedsburg, Wis., was selected in February to be one of 30 Pi Kappa Phi social fraternity members from across the nation who will participate in the 62-day bicycle trip from the West Coast to Washington, D.C. He recently was featured in a Des Moines Register story.
Pi Kappa Phi established Push America in 1977 with the mission of building future leaders by serving people with disabilities. Approximately 100 cyclists from college chapters of the fraternity will make the journey.
Masica, who is majoring in music, advertising and public relations, has a foster brother with Down syndrome. He was attracted to the fraternity because of his own interest in mental disabilities.
"I'm always looking for ways to give back to people with disabilities," Masica told the Des Moines Register. "A lot of people are not educated about them, and they make fun of them. This is a great way to help educate the public about mental disabilities."
Along the journey, the cyclists and crew will stay at camps that serve people with mental disabilities.
"We plan to go about 75 miles a day, then spend the night at the camp. We'll spend the evening talking to and playing with the kids," he said.
In addition, Push America will make a monetary donation to the camps where the group stays.
"The Journey of Hope raises almost $1 million each year, and most of the money goes right back to the camps we will visit this summer," said Masica, who has pledged to raise $2,500 before the trip begins in mid-June.
"It's taking a lot of legwork but it will be a great experience. I am very excited," he added.
Anyone who wishes to give a donation may send cash or a check to Alex Masica at 1215 30th St., Des Moines, IA 50311, or by credit card to secure.pushamerica.org/alexmasica. All donations over $25 are tax-deductible.