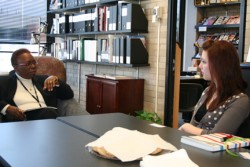 Lillian Dunlap speaks with a Drake journalism student about diversity.
Journalism students and faculty members recently gained insight into the promotion of diversity and integrity within the context of media production.

Consultant Lillian Dunlap, CEO of Communication Research Enterprises, visited the School of Journalism and Mass Communication Feb. 17-19.
During her visit, Dunlap spoke to journalism classes, discussed inclusiveness with members of the school Diversity Committee, members of the Board of Student Communications, and conducted a workshop for faculty. The two-day series was titled "Diversity Across the Curriculum."
At one seminar, Dunlap spoke to more than 30 students from journalism classes taught by Associate Professor Lori Blachford and Adjunct Professor Juli Probasco-Sowers.
Dunlap encouraged aspiring journalists to maintain integrity and create excellent news stories by promoting inclusion, covering the uncovered and avoiding personal bias and prejudice. Under these criteria, Dunlap provided examples of print news stories and examined them with students.
Blachford, the Peggy Fisher and Larry Stelter Chair of Magazine Journalism, thought the exercise was very valuable in illuminating Dunlap's points.
"One of Dr. Dunlap's examples was a photo of four soldiers," Blachford said. "All four were women, but the caption only identified them as soldiers. It was a simple but very effective example of avoiding bias. If all four had been men, we wouldn't identify them as male soldiers."
In a smaller gathering, Dunlap answered questions on how Drake publications and classrooms can fulfill their responsibilities toward inclusiveness at a meeting with Blachford and the following journalism students:

Lindsay Fullington, a senior magazines major from Milwaukee, Wis.
Erin Strecker, a junior magazines major from Libertyville, Ill., and editor of Drake Magazine
Afsaneh Zaeri, a junior international relations and magazines major from Kansas City, Mo.
Strecker asked Dunlap for her advice on handling a challenge student publications face. "We're under new management every year," she said. "How can we continue to uphold values of inclusiveness from year to year?"
Dunlap suggested that Drake publications could create a mission statement and a handbook with guidelines on how to fulfill and maintain a commitment to diversity.
"A good first assignment for new students should expand their comfort zones," Dunlap said. "Find out what is going on around campus and off campus, be more attentive to the areas that go underreported and send students there."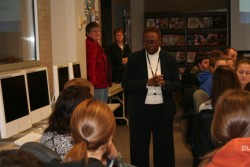 Lillian Dunlap addresses a group of Drake journalism students.
Dunlap concluded her visit with a two-hour workshop for the journalism
faculty that examined in greater detail her idea of the "complete
picture:" reporting that brings the "fullest possible range of people
and issues" to an audience. Anything less, she said, will steal your
excellence as a journalist.
"The power in Dr. Dunlap's message is that she keeps the emphasis
on good journalism," Blachford said. "If journalists do their jobs
well, inclusiveness must follow."
A career dedicated to promoting integrity and inclusion
Dunlap has overseen journalistic diversity workshops for the
International Broadcasting Bureau, the Associated Press, numerous
educational institutions and several U.S. newspapers and media
stations.
Internationally, she has worked with South Africa's Institute for
the Advancement of Journalism, the South African Broadcasting
Corporation and the University of Central Lancashire's Journalism
Leaders Programme in the United Kingdom.
She has also served as the national seminar leader for the Radio
and Television News Directors Association's "News Management Seminars
for Journalists of Color and Women."
A former resident faculty member and now affiliate faculty member
at the Poynter Institute for Media Studies in Florida, Dunlap is also a
former professor of broadcast news at the University of Missouri School
of Journalism. She has nearly 40 years of experience in the media
industry.
Dunlap received a bachelor's degree from Defiance College and
serves on its board of trustees. Her master's and doctorate degrees are
from Indiana University-Bloomington.