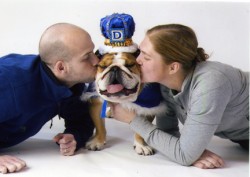 Erin and Kevin Bell with Porterhouse.
While his owner helps in Haiti, Drake's Beautiful Bulldog remains in the spotlight
Porterhouse loves an audience.
Since being crowned the 2009 Drake Relays Beautiful Bulldog, this burly but laidback charmer has become a hugely popular presence at athletic events, where he laps up the adoration of Bulldog fans.
But for several days this winter, there was one person Porterhouse wanted to see more than anyone: Erin Bell. Every time he heard a car pull up in the driveway, he'd run to the window, a toy clutched in his mouth, hoping that she was finally home.
Erin, a public health nurse with Wesley Life, and her husband, Kevin, a second-year Drake law student, are Porterhouse's devoted owners. In late January and early February, Erin spent eight days in Haiti doing medical relief work with No Time for Poverty, a non-governmental organization. It was Erin's fourth trip to the impoverished country, but her first since the earthquake.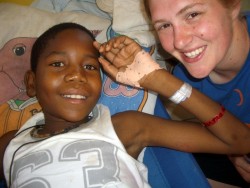 Erin Bell with one of her patients in Haiti.
"I thought Haiti couldn't get any worse, but it has. It's gotten a lot
worse and it blows my mind," she says. "Everywhere you turn, there's
someone without a leg or without an arm, or with a bandage on their
head."
Porterhouse missed Erin like crazy, but ever the showman, he didn't let down his legion of fans.
This year, Porterhouse and at least one of the Bells has attended all
but one home football game, all the men's and women's home basketball
games, several volleyball and soccer matches and, of course, Drake
Relays. He's even got a triple play to his credit: a football game,
basketball game and volleyball game all in the course of a single day.
"Porterhouse is an extraordinary dog. He's got personality and
character well beyond any bulldog I've ever met, and I've met a lot up
close and personal having judged the Beautiful Bulldog contest for the
past three years," says Sandra Hatfield Clubb, Drake's athletic
director.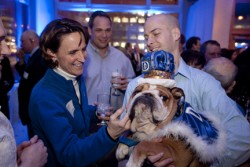 Sandy Hatfield Clubb greets Porterhouse.
"He's got a great demeanor and personality, which he obviously gets
from his owners," she added. "They're both just terrific people who've
made a commitment to bring Porterhouse to all our athletic events."
Porterhouse has also popped in on several non-athletic events, even
greeting hundreds of prospective National Alumni Scholars who visited
campus in early February. It's a busy schedule, even for a Beautiful
Bulldog.
"We love our dog and to be able to take him to these events is lots of fun," Kevin said.

Porterhouse, 4-years-old and a compact 60 pounds, is a total
professional. He knows if Kevin or Erin is carrying his bag of stuff —
crown and cape, Drake golf towel, blue water bowl and doggie treats —
he's going to a game. He's ready for action the second the Bells arrive
on campus.
At football games, Kevin would run Porterhouse up and down the
sidelines, much to the joy of students and others fans. Porterhouse was
even invited to be in the football team photo, posing between two
helmets.
Athletics staff members know a good draw when they see it, and soon
Porterhouse was asked to attend other Bulldog sporting events. The
pooch's popularity has only grown, and his presence at games now feels
as necessary and familiar as the color blue.
"I still can't get over the reaction we get. I thought it would taper
off, but at every game it's like the first time everyone's seen him,"
Erin said. "People just love him. We joke that we should rent him out
as a chick magnet, because guys think he's an awesome dog and girls
think he's so cute."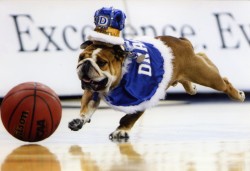 Porterhouse chases a basketball across the court.
At basketball games, Porterhouse leads the team out by chasing a ball
that Kevin rolls across court. This all has to be timed perfectly,
because Porterhouse is really, really into it. Even opposing fans
applaud his vigorous routine, which concludes with Porterhouse
triumphantly placing his paw on the ball.
View Porterhouse in action on the court in a story that ran this week on KCCI-TV in Des Moines.
"He wants the ball," Kevin said. "He's docile as can be, but when it
comes to a basketball or football, it's hard to hold him back."
This spring, Porterhouse will turn over his title to a newly crowned
Drake Relays Beautiful Bulldog, but he'll continue as a Drake mascot
for at least another year.
"Fans love him," Hatfield Clubb said. "I can't count the number of fans
who've asked me if we can keep him as our official mascot forever."
Meanwhile, Erin hopes to return to Haiti soon.
"They're the strongest people, stoic and warm and grateful. They're
really coming together, trying to form new communities," Erin said.
"I'd still be there if I could."
Leaving Haiti was actually difficult, Erin says, because the country
still needs so much help. But coming home always means reuniting with
Kevin and Porterhouse, their four-legged superstar.
"It's always awesome to see him," she said.
Bulldog fans would enthusiastically agree.