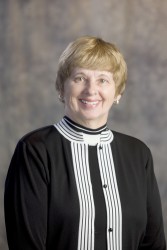 LouAnn Simpson
Drake University President David Maxwell has appointed LouAnn Simpson, professor of business law, as university marshal.
As marshal, Simpson will serve as master of ceremonies at university commencements and other formal events including convocations and installations. She also will preside as chair of the President's Committee on Commencement.
Simpson was recommended by the Council of Deans, based on criteria that the marshal of Drake University will:

hold the rank of full professor
be actively engaged in the life of the University, through all-university leadership and service
have regularly attended Drake University commencements
Marshals are elected to serve a five-year term, renewable at the president's discretion.
Simpson, who joined the Drake faculty in 1974, has served three terms as president of the Faculty Senate — more terms than any other faculty member. She also was an executive in the University Senate, which became the Faculty Senate in 1987-88.
She previously served as assistant dean, associate dean and director of the School of Accounting in the College of Business and Public Administration. She now chairs the college's Accounting, Business Law and Information Systems Department.
"This appointment as university marshal is one of great distinction," said President Maxwell. "In LouAnn's case, it is a reflection of years of distinguished service to Drake University in a variety of important capacities, of her stature at the University as a faculty member, and of her wise and compassionate commitment to our students."
An active member of several university committees, Simpson also is adviser for Alpha Kappa Psi, a professional business fraternity. She holds both a bachelor of science in business administration and a law degree from Drake.
Former Drake marshals have included:

Rick Morrow, the Ellis and Nelle Levitt professor emeritus of pharmacology, 2009
Lon Larson, the late Ellis and Nelle Levitt professor of pharmacy administration, 2004-2008
R. Dean Wright, the late Ellis and Nelle Levitt professor emeritus of sociology, 1994-2003
Charles Nelson, professor emeritus of history, 1986-1993
Lewis McNurlen, the late professor emeritus of sociology, 1971-1985