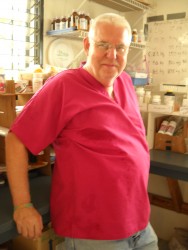 Ed Monroe, PH'63
Ed Monroe, PH'63, has spent his retirement traveling to Haiti on
medical missions, providing lifesaving treatment and pharmaceutical
expertise to residents of one of the most impoverished nations in the
western world.
Monroe has traveled to Haiti 10 times since 2004, working with The Friends of the Children of Haiti (FOTCOH), an organization that has brought health care professionals to Haiti on medical missions for more than 25 years.
FOTCOH's clinic is located in Cyvadier and serves communities
located in southern Haiti, including the town of Jacmel, known as
Haiti's art capital.
Since the earthquake that devastated Haiti in early January, Monroe
has been working to procure and provide aid to those affected by the
destruction.
Monroe's blog, titled "What's Ed Up To Now," chronicles his involvement in Haiti.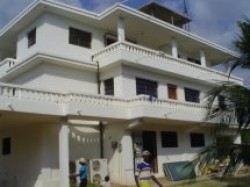 FOTCOH's clinic, located in Cyvadier, serves communities in southern Haiti.
"Our clinic suffered only minor damage from the earthquake," said
Monroe, "but the hotel nearby was not as lucky. The main dining area
and kitchen collapsed, as did several hotel rooms. The neighboring
school's walls cracked.
"I've heard from the leaders of several of the nearby orphanages, and
they've confirmed that while Cyvadier sustained only minor damage,
Jacmel is in ruins," he added. "At least 3,000 people from Jacmel were
killed in the earthquake, and their bodies have been buried in a mass
grave. The main hospital is rubble, as is the downtown area."
Monroe said that the earthquake has also negatively impacted many Haitian health care providers and FOTCOH associates.
"The Haitian physician who works with us at the clinics has lost his
home, and he and his wife are expecting a baby next month," Monroe
said. "My main pharmacy assistant also reported that his home was
crushed and that he and the seven other people who lived there are now
sleeping under bed sheets."
Monroe also said that, "Haitians, especially the orphans, are now
tremendously scared to sleep inside the homes left standing for fear of
the earthquake's aftershocks."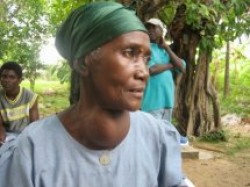 The clinic sees more than 2,500 patients each trip.
A mission to serve
FOTCOH sponsors medical missions to Haiti six times a year. Each 12-day
mission brings more than 20 doctors, nurses, pharmacists, dentists,
physical therapists and other volunteers to the clinic.
If travel arrangements can be made, Monroe will return to Haiti with his team this month.
"Every trip, we see more than 2,500 patients at the clinic and dispense
over $40,000 worth of medications and supplies," Monroe said. "Our
organization is funded entirely by donations. Our volunteers pay their
own way to go on the mission trips."
In order to rebuild and improve conditions in Haiti, Monroe made several suggestions, such as:

Clearing the rubble, burying the dead
Rebuilding the roads and infrastructure
Immediate help to provide food and housing
Creating jobs (Haiti's unemployment rate is 80 percent)
Ending government corruption and bribery
Support from the rest of the world over the next several years
He also encourages Americans to donate money, goods and their time to reputable organizations dedicated to Haitian recovery.
A global perspective
Monroe credits his experiences at Drake with introducing him to
international awareness while his professional life in pharmacy taught
him to serve people.
"When I graduated from Drake University, I had no idea that I would end
up practicing pharmacy in a third world country," Monroe said. "I thank
Drake for a wonderful well-rounded education."

He added that he could always count on his professors at Drake for constant encouragement.
"My professors believed in me," Monroe said. "I worked several jobs
during college to fund my education, and that often left me little time
to study. My teachers were always making themselves available when I
needed help."

Monroe is in contact with other Drake alumni who are committed to
Haitian aid, including pharmacists Tom Rickey, PH'68, Gary Alwan,
PH'76, and physician Wendy Van Ittersum, AS'99.