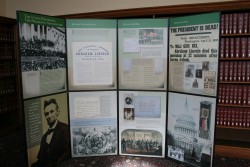 The national traveling exhibit includes newspaper accounts of Lincoln's death.
Cowles Library's Citizens Arise! series brought hundreds of Drake and Des Moines-area students, professors and citizens together to learn about and discuss the importance of responsible citizenship.
Through several lectures and two national traveling exhibits — "John Adams Unbound" and "Abraham Lincoln: A Man for His Time, A Man for All Times" — the series challenged people to explore our nation's history.
Both exhibits were brought to Drake by the Gilder Lehrman Institute of American History in New York City and made possible by a major grant from the National Endowment for the Humanities.
The "John Adams Unbound" exhibit included photo reproductions of Adams' books and personal effects. Believing that an "ample and well chosen Assortment of Books" could serve both intellectual and political purposes, Adams assembled one of the greatest private libraries in early America.
"Abraham Lincoln: A Man for His Time, a Man for All Times," featured Lincoln's notable written and spoken messages, Civil War-era photographs, letters and images.
Civil War historian shares new perspective on Lincoln


Drake students engaged with Lincoln and Civil War historian Orville Vernon Burton following his lecture last month that drew a crowd of 100 in the Cowles Library Reading Room.
Burton, a Pulitzer Prize-nominated author and the Burroughs distinguished professor of southern history and culture at Coastal Carolina University, presented the lecture based on his book, "The Age of Lincoln."
During an informal talk with students the next morning, Burton chatted with Samantha Wagner, a sophomore majoring in law, politics and society, and Samara Silver, a junior majoring in education.
Wagner said she was particularly interested in how Lincoln is viewed as a great leader today, but, during his time, not everyone shared that perspective. "Our understanding of these leaders changes with time," she said.
Silverman found Burton's talk to be helpful to her understanding of the rights of women in the late 1800s, a subject currently under discussion in her reproductive law and politics course.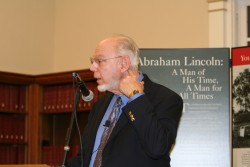 Ronald Rietveld points to a spot behind his ear to show where Lincoln was shot by John Wilkes Booth.
Scholar provides insight into Lincoln's life and death

Historian Ronald Rietveld, who attended Drake from 1955-57 before
transferring to Wheaton College, presented a lecture to 85 people in
Cowles Library on "An Abraham Lincoln Memory" in conjunction with a
national traveling exhibit on President Lincoln.
Rietveld, professor emeritus of history at California State
University at Fullerton, gave a detailed account of Lincoln's
assassination, funeral cortege and burial.
He also told the audience that he has been fascinated by Lincoln and
the Civil War since he was a young boy. He read countless books about
the subject and even wrote a letter to each of Iowa's last seven
surviving veterans of the Civil War after the Des Moines Register
published a story about them.
Rietveld then discussed his discovery of the last photograph ever
taken of Lincoln that he found at the age of 14 while examining the
Illinois State Historical Library's Nicolay papers in 1952.
The photo, taken while Lincoln's body was lying in state in New York
City, angered Mary Todd Lincoln. She demanded that Secretary of War
Edwin Stanton order the destruction of all copies of the photo and the
plates from which it was made. Somehow a single print survived and was
eventually given to Lincoln's clerk, John Nicolay, by one of Stanton's
sons.
"I recognized at once that it was the missing photo and reported it
right away," Rietveld recalled of his discovery. "I was asked not to
tell anyone about the photo and so I didn't say a word — even to my
parents.
A few months later, the discovery was announced in an Associated
Press story that ran in the Des Moines paper. "My mother woke me up at
6 a.m. that morning, saying that my grandfather had called to say my
name was on the front page of the newspaper," Rietveld recounted. "She
demanded to know what kind of trouble I had gotten into to have my name
appear on the front page!"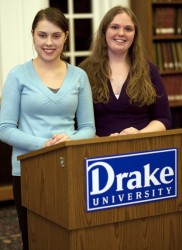 Lauren Burdt and Sarah Sutter of Ankeny enjoy their victory.
Citizens Arise! brings high school debaters to campus
In conjunction with the series, Drake hosted a student debate that featured students from seven Iowa high school teams.
Two Ankeny High School juniors, Lauren Burdt and Sarah Sutter, defeated the Roosevelt High School team.
Burdt said the experience wasn't just about the victory, but about
encouraging America's youth to be responsible citizens. "Teens should
get involved in the political process and do whatever they can to help
their cause — volunteer and vote," Burdt said.
Burdt and Sutter, who each won a prize of a three-credit hour course at Drake, were coached by Michael Miller.
Two-student
teams from each school competed in the public forum style debate in
Drake's Cowles Library Reading Room. The teams argued in support of
whether or not the abridging by the United States federal government of
individual state powers granted by the 10th Amendment is justified.
Students were judged by a panel of Drake faculty members, who shared positive comments after the debate.
"It can be a challenge to get students engaged in public issues and
current events," said Ralph Siddall, visiting instructor of rhetoric
and communications. "I was extremely impressed with these students'
abilities to apply the Constitution and history to our culture and
society today. This is what 'engaged citizenship' is all about."