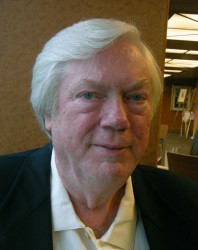 James P. Lewis
Professionals who want to enhance their skills and advance their careers are invited to attend Drake University's new three-day Project Management course taught by industry expert and author James P. Lewis.
The class, offered March 23-25 by Drake's Center for Professional Studies, is not a theoretical academic program. Instead, the class offers practical training in how to manage every aspect of a project effectively to achieve schedule, cost and performance objectives.
Lewis has 15 years of industry experience as an electrical engineer and project manager and more than 28 years of experience in teaching seminars. He has published 10 books and his "Lewis Method" of managing projects has been adopted by thousands of managers. He holds a bachelor's degree in engineering and a Ph.D. in psychology from North Carolina State University.
The principles Lewis teaches may be applied to any kind of project. Among those who would benefit from the class are project managers whose jobs involve corporate planning, construction, data processing, development, engineering, finance, information technology, manufacturing, marketing, quality control and research and development.
The class will meet from 8:30 a.m. to 4:30 p.m. on March 23, 24 and 25 in Drake's Olmsted Center.
Attendees will each receive Lewis' book titled "Project Planning, Scheduling & Control," a 150-page workbook, three networking luncheons and 1.8 continuing education credits or 18 professional development units.
The course fee is $1,395 per person and a 10 percent discount is available for Drake alumni. There also is a discount for any organization that registers more than one person.
For more information and registration, visit www.cbpa.drake.edu/cps or call the Drake Center for Professional Studies at 515-271-2592.