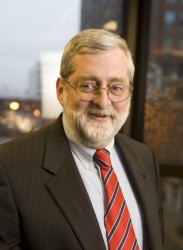 Law School Dean Allan Vestal
Drake Law School's 73rd annual Supreme Court Celebration will culminate with a banquet and awards ceremony on Saturday, March 6.
"This year's event puts the spotlight squarely on the history and accomplishment of the Drake Law School," said Dean Allan Vestal. "We will celebrate our academic excellence, our outstanding record of leadership and service, as well as our long-established relationship with the Iowa Supreme Court."
The banquet begins with a reception at 5:30 p.m., followed by dinner and the program at 6:30 p.m. in Parents Hall at Olmsted Center.
The Supreme Court Celebration includes dinners for the Drake Journal of Agricultural Law on Thursday, March 4, and Drake Law Review Dinner, Friday, March 5. There will be a Drake Moot Court luncheon on Saturday, March 6.
The final round of the Supreme Court Competition will be Saturday, March 6, in the Iowa Judicial Branch Building, 1111 E. Court Ave.
Each year, outstanding advocates in the law school compete in the Supreme Court Competition for the honor of presenting final arguments to the Iowa Supreme Court. The competition is based upon a real case, using an actual record that was pending before the Iowa Supreme Court, thus giving competitors a realistic experience.
This year's case involves Win-A-Lot Games v. the Iowa Lottery Authority and the State of Iowa. Win-A-Lot Games, the plaintiff, invested significant funds in developing and deploying TouchPlay machines with the expectation that the TouchPlay program would last for at least five years.
The TouchPlay program was banned, however, the contract stated that the Lottery could terminate the contract "without penalty and without any advance notice" due to "an act….of the Legislature."
The District Court decided in favor of the Lottery based on the phrase "without penalty," finding the risk was with Win-A-Lot Games. The Supreme Court will determine whether Win-A-Lot is entitled to pursue non-contract remedies against the Lottery.
The competition is open to all second- and third-year law students and consists of two preliminary rounds, one on-brief and one off-brief. Each competitor argues individually in the preliminary rounds. The four top advocates based upon oral scores from the preliminary rounds advance to the final round.

The winners will be announced at the Supreme Court Celebration Banquet.
To learn more about all the Supreme Court Celebration events, make reservations or sponsor a Drake Law student to attend the events, visit the Web site. https://www.law.drake.edu/supCtCelebration/reservations.aspx
For more information, contact Leslie Herman at 515-271-3985 or leslie.herman@drake.edu.